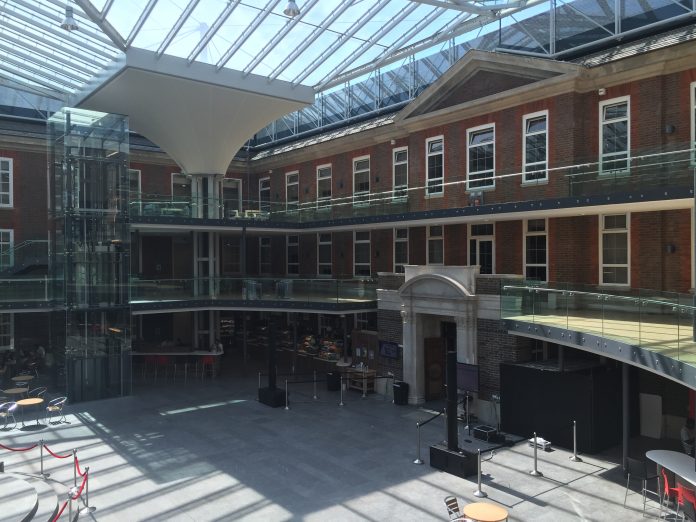 With roots dating back more than 130 years, Middlesex University has built a reputation as a world-class institution, with branches in Dubai, Malta, and Mauritius. The school's main campus in Hendon, North London, has been undergoing an extensive redevelopment project including the transformation of a previously underused outdoor space.
The addition of a strikingly modern and innovative glass roof has transformed the Sir Raymond Rickett Quadrangle into a versatile gathering and event space. It has also created its own acoustical issues, with the massive glass roof creating a highly reflective environment. To address the new space's sonic challenges, the University contacted POLARaudio, who partnered with Roche Audio Visual to design a dedicated audio system centred around Renkus-Heinz ICONYX IC Live digitally steered array loudspeakers. Iconyx steered arrays create a series of tightly controlled sound beams enabling the sound to be directed toward the listener and away from reflective surfaces.
The system comprises four Renkus-Heinz ICL-R steered arrays and two IC215S subwoofers. The IC Live system assembles quickly and easily, making it possible to position the system at various locations, depending on the stage and audience configuration of different events and performances. For each different position, a pre-set beam configuration can be saved to the IC Live for quick recall. A Mackie DL32R digital mixer with iPad control covers FOH mixing duties, further simplifying setup for events and allowing engineers to control the mix from anywhere in the venue.
"Middlesex University are delighted with their new system," states Stuart Leader, POLARaudio's Director of Installation. "We were pleased to be involved from the outset, and to partner with Roche AV. The Iconyx steered array technology has been proven to overcome the challenge of difficult acoustical spaces, and it was most certainly the best choice for this project."