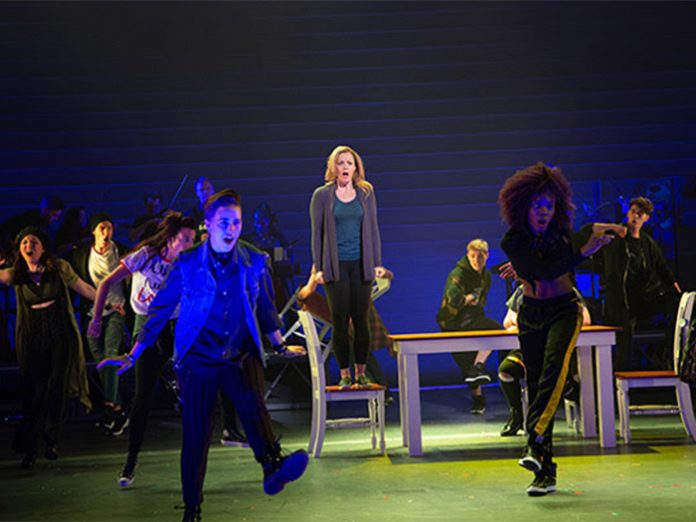 A daring stage production inspired by Alanis Morissette's album Jagged Little Pill, which premiered at the American Repertory Theater's Loeb Drama Center, has pushed the limits of immersive sound design in a musical drama. To accomplish this, sound designer Jonathan Dean relied on a Meyer Sound D-Mitri digital audio platform, and a diverse complement of self-powered Meyer Sound loudspeakers.
Jonathan said: "The creative team had a vision of telling the story in a way that can be internal and personal and then suddenly explode into these incredible songs, where the emotions can be very overpowering. So we really needed a system that worked at two levels but that could transition quickly and seamlessly from one to the other."
The foundation for the system is the theatre's resident 88-loudspeaker Meyer Sound system, which includes full surround capability and a main proscenium system anchored by 16 LINA very compact line array loudspeakers with bass augmented by two each 900-LFC and 750-LFC low-frequency control elements. Two additional 750-LFC elements are placed back in the house for surround bass management.
To expand the sound to arena-size power, the front arrays were supplemented with ten LEOPARD compact line array loudspeakers and two 1100-LFC low-frequency control elements. "The LINA arrays have ample power for nearly everything we do here," said the theatre's sound manager, Sam Lerner, "but this was a case where we went from big to bigger."
Jonathan continued: ''We are nowhere near tapping out the LINAs, let alone the LEOPARDs. We could shake the building, but the purpose is not to do that. What we needed was something that was powerful and coherent, yet at the same time delicate and beautiful. It's a very transparent and focused system.''
A debut is the deployment of eight Ashby 8C loudspeakers — mounted in custom enclosures — for the A-B voice system used during the book scenes. "If we put the intimate dialogue into the line arrays, we wouldn't achieve the desired effect of demanding that the audience pay attention and listen," said Jonathan. "We wanted a more intimate and natural effect, and the Ashby's provide that with their open sound and 100-degree conical dispersion. It has the quality of an un-amplified voice, so it pulls you into the scene rather than pushing the sound out to you. But when we explode out into the songs, the transition is smooth and seamless."
A core component in realising his ambitious design is Meyer Sound's D-Mitri digital audio platform, with a complete seven-module system in permanent residence at the theater. "With D-Mitri, regardless of what the director asks me to do with the sound, I never have to say, 'No, I can't do that.' It gives me an open landscape in which to work freely. And going from D-Mitri into the LEO Family loudspeakers is like looking through a transparent window. The LINAs and LEOPARDs are very open, and very fast to prepare because the equalisation needed is minimal. What you need to make it work is easily done."