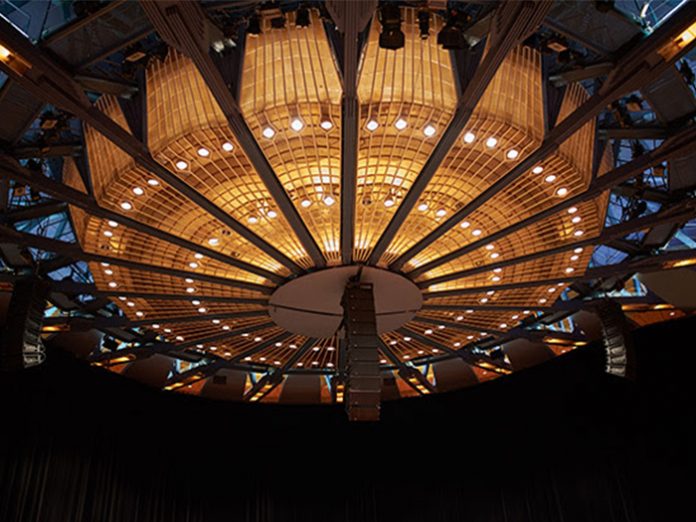 To amplify all programs with transparent fidelity, Cologne Philharmonic Hall recently installed a new Meyer Sound reinforcement system based on Meyer Sound LEOPARD compact line array loudspeakers.
"Our wide range of musical performances demand a highly flexible approach to the PA system," said Andreas Hardtke, stage manager of the Cologne Philharmonic. "As our existing PA system had grown old and repairs had become more frequent, we were looking for a future-proof successor system that would meet all our requirements."
For the new loudspeaker evaluations, the hall's technical management set clear guidelines for testing different systems at various in-house events. "Everyone prefers to make use of our PA system for reasons of time and cost. Now we can offer every customer a system ready to play, so a continuous quality standard can be guaranteed for all events. And of course, that standard should be as high as possible," explained Andreas.
Also, the new system should have almost the same dimensions as the old system, the storage space needed should remain the same, and digital processing should control it. Additionally the loudspeakers had to blend in aesthetically with the hall, and cover all seats at uniform levels without use of delay loudspeakers.
The system as installed at Cologne Philharmonic Hall, is based on main left-right arrays of seven each Meyer Sound LEOPARD line array loudspeakers with 11 Meyer Sound LEOPARD at the center. On stage there are two Meyer Sound LEOPARD loudspeakers left and right, two Meyer Sound 900-LFC low frequency control elements and two Meyer Sound UPJ-1P compact VariO loudspeakers.
Five UPM-1P loudspeakers are deployed as near fill, and the entire system is controlled by three Meyer Sound Galileo GALAXY network platforms.
 
Meyer's LEOPARD's compact dimensions allow the side arrays to be pulled up into the ceiling when not needed for classical concerts. The center array is placed in a special trolley, carried over the stage and taken by elevator into the cellar. The on-stage systems are easily moveable and can be plugged in and ready to play in minutes.
"We timed the calibration so that we could test different styles of music for three days. The system stayed at the venue, so we could work on it continuously. The Meyer Sound simulation program MAPP XT gave us the positions, angles and heights of the system in advance, so the final installation was not that difficult," added Andreas.
"Our principal goal was realization of a system that faithfully reproduces all sounds, and with the new Meyer Sound system we have achieved this. Finally, speech intelligibility is a given. Both the music and the spoken word are precisely localized on the stage, and a grand piano sounds like a grand piano at every place in the hall," concluded Andreas.