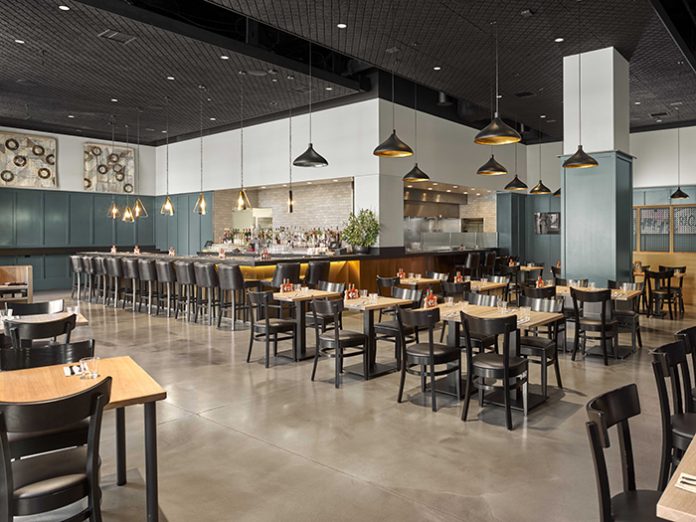 At its best, fine dining pleases all the senses and annoys none. For Tanya Holland, owner and executive chef at Brown Sugar Kitchen, the quality of sound heard inside the restaurant plays a critical role in complementing what her guests experience with food and drink. To ensure the optimum listening experience, Tanya chose to install a Meyer Sound Constellation system at her new uptown Oakland, California location.
"The soundtrack has always been important to Brown Sugar Kitchen," said Tanya. "It's crucial that music we play — a mixture of soul, R&B, American pop and some classical — is integrated into the customer experience in a way that is always enjoyable and never competing in volume with noise from the kitchen or other people's conversations. We've done that with Constellation, and the results are really amazing."
Prior to the opening, Tanya had heard from a fellow chef about the excellent sound at a Constellation-equipped Berkeley restaurant, Comal. After an ear-opening experience there and later at another Oakland restaurant, Oliveto, she was convinced.
"I have been to other restaurants where there is no acoustical control and poor sound systems," she recalled, "and the experience can be quite uncomfortable. After hearing Constellation at Comal and Oliveto, I realised these systems are game-changers."
In restaurant applications, the design process starts by establishing relatively dead baseline physical acoustics — damped beyond what is necessary for a lively atmosphere. Constellation then reintroduces an airy and convivial acoustic signature, but in a controlled way that never allows the room to become over-excited and cacophonous. Constellation also creates "sonic micro-climates" that allow easy conversation around the table while blurring voices from further away. Background or foreground music can be introduced and balanced to suit the mood and time of day.
The Constellation system for Brown Sugar Kitchen's 85-seat dining area comprises 16 Ashby-5C full-range ceiling loudspeakers augmented for ample bass by 10 MM-10XP miniature subwoofers. All loudspeakers employ Meyer Sound's exclusive IntelligentDC technology, which uniquely combines the sonic benefits of self-powered loudspeakers with the installation ease of distributed constant voltage systems. Fifteen miniature cardioid microphones are discreetly mounted around the ceiling for ambient sensing, and a D-Mitri digital audio platform provides inputs and outputs as well as flexible acoustical emulations using the patented D-VRAS algorithm. System levels and presets are controllable via an iPad remote.
The success of Constellation depends on establishing complementary baseline physical acoustics, a challenging task at Brown Sugar Kitchen due to the glass-windowed front and hard flooring. Consequently, the ceiling was made highly absorbent, and remaining walls were treated to minimize sound reflections. In that respect, several Meyer Sound Libra custom acoustic panels served a dual role, both absorbing sounds and greatly contributing to the visual ambience of the space.
"I'm very particular about the look of the room as well," noted Tanya, "and I personally select the artwork for the walls. I was thrilled to find out that I could select my own visuals and have them transferred onto the Libra panels. In fact, to me the Libra reproductions actually look better than the originals on canvas because the Libra fabric has more texture."
Although normally used only for acoustical ambience and relatively low-level music reproduction, the system has ample power reserves — including potent bass — to step up the excitement when desired. On several occasions, a DJ was brought in to raise the energy level and, although the room lacks a dance floor, the sessions elicited a lot of "smiling and bobbing of heads" according to Tanya.
"We have a lot of musicians come in here and they certainly have appreciated our extra effort in putting in a Meyer Sound system," she continued. "Most people are generally unaware of it when they first come in, but by the time they leave they often say, 'Wow, what a great sound system.' They appreciate how they can fully enjoy the music and still have an intimate conversation around the table."
The complete audio system for Brown Sugar Kitchen was installed by BugID Audio Video Design and Integration of San Francisco under the supervision of Matt Lavine. Other key components on the input side include an Apple Mac Mini (for the Spotify music service), a Sound Devices USBPre 2 preamplifier, and a StarTech 17-inch video monitor. The Extron-equipped DJ panel includes a Rolls MB15b Promatch for converting unbalanced stereo inputs to balanced audio outputs.