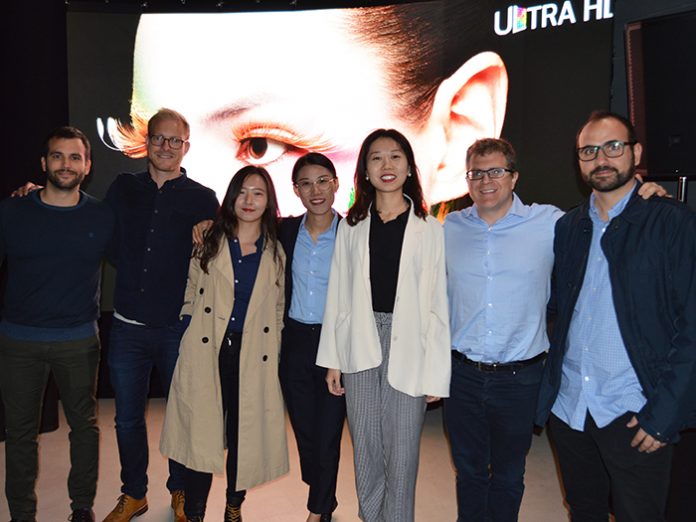 Spanish AV distributor, EARPRO, and leading LED manufacturer, Absen, are due to celebrate the first anniversary of their official distribution partnership in Spain, Portugal and Andorra. The milestone comes at the same time as the official opening of EARPRO's new showroom in Madrid, featuring a 200sqm dedicated experience centre.
EARPRO – which is part of the Midwich Group – is one of the few companies accredited with the status of VAD (Value Added Distributor). As VAD, EAPRO has given customers access to the latest LED displays with a dedicated local service centre and in-house technical support for both rental and fixed installations. EARPRO will also be offering technical training to customers from November 2019.
The partnership, which was made official in late 2018, has also seen the specialist distributor strengthen its burgeoning visual media portfolio; a decision taken in direct response to the demands of its corporate customers and rental professionals across Iberia.
Luis Miguel Batuecas, visual media business manager of EARPRO, said: "With Absen, we always feel confident that we are offering our resellers and rental companies a top-quality LED solution. We have been very impressed by Absen's commitment to supporting us with our customers' local requirements, which includes a fantastic Spanish-speaking team who have shown a deep understanding of the local market".
"We have been very pleased with the success of our partnership," added Mirian Cheng, regional director of Absen. "We are committed to the Iberian market and will continue to invest in local service and support to ensure customer's get the most out of their LED deployments".
For 10 years running, Absen has been the top Chinese exporter of LED displays, making it the brand of choice for integration partners and rental companies around the world. The company has achieved this success through a focus on making high-quality products and providing channel partners with high levels of support in their local market.
To celebrate the opening of the new office and showroom in Madrid, EARPRO hosted an Absen Open Day on 16th October. For anyone who missed the event and would like to get hands-on with Absen's latest range of LED products, please contact the team to arrange a live demonstration.