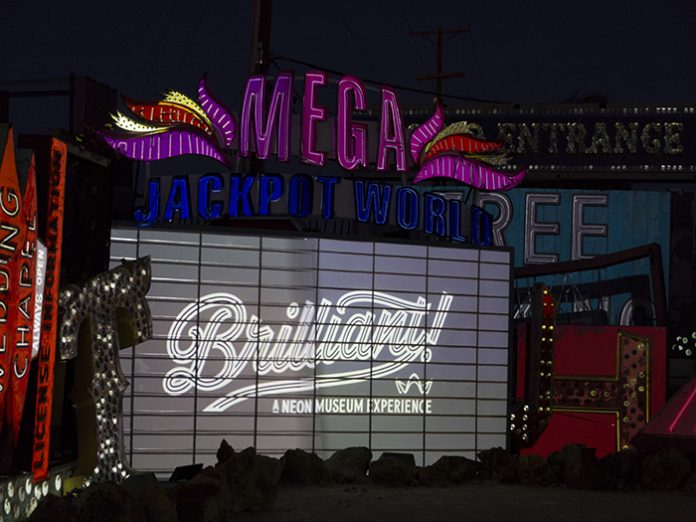 The Neon Museum has created Brilliant!—an audiovisual immersion experience that uses technological advances to reanimate 40 monumental examples of the museum's iconic vintage signs.
Presented after dark in the Neon Museum's North Gallery, Brilliant! was created by digital artist and designer Craig Winslow using projection mapping to arrive at a shared augmented reality experience. Earth Water Sky served as the system designer and integrator with audio and video servers supplied by Show Sage.
To guests immersed in the 30-minute experience, the unrestored, non-working and in some cases broken signs will appear to be suddenly re-electrified, as though by magic, before their eyes. Up to 50 guests at a time will be transported directly into Las Vegas' history, where the static signs come to life while accompanied by music from some of the entertainment industry's most storied performers.
The sound design was by Stefan Broadley from 4th Street Recording Studios whose first challenge was how to mix the audio. "Officially it's impossible to remix stereo into true 3D without the separate audio parts, but it wasn't possible to get those, as the classic Vegas songs we picked had been recorded decades ago, and stereo files are all there is. But after doing a bunch of surround sound projects, I've developed some super sneaky tricks to separate stereo into multiple tracks.
"Fortunately I had a crack support team with Earth Water Sky, Show Sage, Independent Audio, and Merging all helping me install the software and map it to the audio hardware through Ovation to sync with the video, lighting, and computer controllers. With everything connected, it was time for my first 3D mix, and the very first attempt blew my mind."
Brilliant! utilises 24 3D-sound speakers and eight projectors emitting a total of 80,000 lumens of light to create a 360-degree audiovisual experience. Two 20-foot climate-controlled towers, designed to resemble the classic Champagne-bubble cylinder from the old Flamingo Las Vegas hotel and casino, were constructed by noted sign company YESCO.
They house the projectors, which are aligned at precise angles to cover the entirety of the North Gallery space. To create the projections used to give the impression the signs have been re-electrified, Winslow took a combination of flat photography, drone video, and 3-D photogrammetry, all used as references to recreate each sign, bulb by bulb, in Adobe Illustrator.
He then used a process called structured light scanning to obtain a precise view of the projectors' output, before fine-tune warping the content to perfectly align to the actual surfaces—the bulbs, bent metal and broken neon tubes of the signs in the gallery. This process, known as projection mapping, aligns digital animations to the physical world, allowing signs that have not been illuminated for decades to shine once again.
"The addition of Brilliant! to the Neon Museum's roster of offerings further defines our role in sign collection, conservation, restoration, historic preservation, research and learning," explained Rob McCoy, president and chief executive officer, Neon Museum. "This is truly a first. Nowhere on the planet has anyone attempted to create what we have launched at the Museum."
John Humphries from Earth Water Sky decided first on the WATCHOUT solution and having contacted Show Sage for more detailed design, was introduced to the added bonus of the Ovation integration. Show Sage also assisted with the SDI signal conversion for the projectors and the wireless networking.
John engaged Stefan Broadley to manage the music compilation, editing, mixing and Ovation programming and who added this thought after his experience; "3D music has a visceral immersiveness, and it feels alive as it swirls around you. Certainly, there were howls of disappointment whenever it switched back to the original stereo track."
Come to the Merging Technologies Booth at InfoComm 2018, C1719 and meet Stefan Broadley to find out more about Ovation and Brilliant!