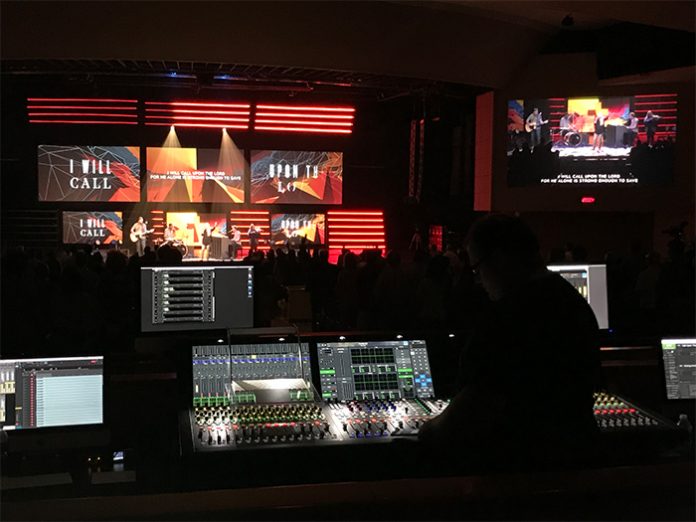 McLean Bible Church (MBC) has installed Lawo mc² audio consoles and a Nova central routing system to upgrade their Tysons Campus facility in greater Washington, DC.
MBC regularly hosts a full band, singers, worship leaders, an orchestra, choir and various audio playback elements and broadcast feeds to other campuses around DC.
Marvin Haines, MBC's Director of Technical Arts stated, "We were looking for a system that provided excellent sound quality and reliability and had the flexibility to expand and grow with us through the years as our requirements continue to evolve. We considered and demoed several consoles. Ultimately it came down to two factors, tonal quality and infrastructure. When we did live in-house demos in our room we were blown away by the tonal quality that the Lawo console was able to reproduce right out of the box. With very little eq every instrument and vocal was heard clearly and really shined through our PA. The expandability and flexibility of the infrastructure was also a big factor in our decision. Having the ability to tie other consoles and equipment in through the network will help us for special events in the future as well as some recording initiatives we have planned."
The system features a 48-fader Lawo mc²56 console handling front of house and broadcast mix duties, with a 40-fader Lawo mc²36 console for the monitor mix. Both consoles can independently access and control all sources over an IP-network created by fibre connections to a Lawo Nova73 Compact router. Several Lawo stage boxes are connected to the router, including two Compact I/O's located on stage, an additional Compact I/O at FOH and an A_mic8 to provide live translation routing.
Tony Aiello, MBC's AV Engineering Director added, "We had lots of issues with analog patch bays creating noise during live events and also wanted to replace all of our outboard processing as part of the upgrade, making sure that we also had an easy-to-use layout for our volunteers. With our old system it was very difficult to serve multiple events throughout the same week without being able to save any settings. Now we can provide high quality audio throughout our facility and store productions and snapshots to simplify operation and centrally manage the routing for our multiple campuses, recording facility and multiple language broadcast feeds."
Joey Burdette, MBC's Technical Director and FOH Engineer said, "One of the factors in my decision was being able to establish a consistent workflow for both consoles. No matter if you are running FOH or monitors, the workflow is the same. Having a consistent workflow has also allowed us to easily train staff and volunteers who wouldn't have able to be part of our team with our old analog system."
The Lawo mc²56 is capable of a maximum of 888 fully configured DSP channels with 144 summing buses and 8,192 x 8,192 mono-channel matrix capacity. The system offers flexibility to route and assign any combination of input and output signals to any faders and includes Automix capability, built-in dynamics and signal processing along with tight integration and control of Waves SoundGrid for additional effects plug-ins, which can be assigned and controlled directly from the console surface. The Lawo mc²36 console handles monitor mix duties and includes up to 192 DSP channels with its own internal 512 x 512 router and all the same operational features and functionality offered on the mc²56, while Lawo's NOVA 73 compact provides centralised routing and sharing of all I/O from every console and stage box in the facility.
Marvin concluded: "The Lawo technology gives us possibilities with regard to live sound and broadcast for sending out our message which is always our primary goal. And the relationship we foster with Lawo is not limited to excellent state-of-the-art and future-proof IP equipment, but it is a deeply felt trust in the commitment of Lawo for their customers."