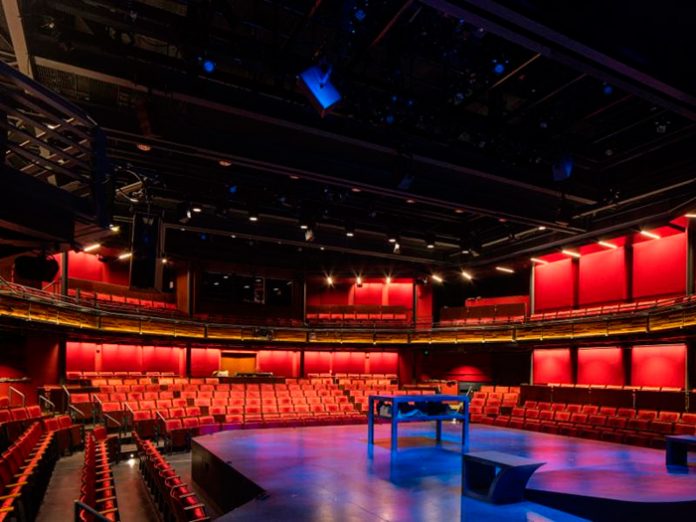 When Baltimore Centre Stage, the city's largest professional theatre company, set out on its dramatic $28 million transformation, it tasked Masque Sound, a leading theatrical sound reinforcement, installation and design company, to supply and install a custom audio equipment package for its Head Theatre.
Now, as the year-long renovation comes to a completion, Masque Sound, in collaboration with theatre and acoustic consultants Charcoalblue, is proud to unveil the theatre's new state-of-the-art audio system.
"The primary purpose of the installed system was to provide the general infrastructure canvas for system designers to use for their own audio designs," says Matt Peskie, installations department manager, Masque Sound. "AV panels are in every conceivable location to account for any possible scenario. Most locations not only have audio, video, speaker and intercom connections, but also incorporate OM4 multimode fiber. By installing fiber at most AV panel locations, the building is prepared for new technology and will not be hindered by lack of interconnection points."
For Baltimore Centre Stage Audio Supervisor Amy Wedel, the process began by sitting down with Charcoalblue to layout the design to her specifications. "Working with John Owens and his great team at Charcoalblue, I was able to dictate the architecture of our new system throughout the building," adds Wedel. "We then worked with Matt Peskie and his team at Masque Sound for the delivery and installation of the new equipment. Matt was awesome to work with and I knew we were in good hands with Masque Sound."
The new audio system in the theatre features d&b audiotechnik loudspeakers and amplifiers and EM Acoustics loudspeakers and amplifiers. The entire system was run by a DiGiCo SD10T console. A total of seven Middle Atlantic Products 44 RU WRK series racks house all AV equipment within the facility. Two racks reside on the first floor, while the remaining five are located on the sixth floor.
For DSP, Symetrix Radius 12×8 and a Symetrix xOUT are located at each of the main rack locations. Seven ARC-2e remotes and two ARC-3 remotes allow for end-user signal selection and level control throughout the building. The flexibility of the Symetrix Composer software allows for the specific paging and routing control required for the project. A touch panel PC in each rack location, equipped with custom SymVue control panels, gives the end user a tremendous amount of flexibility over selection and level of the page/program zones throughout the building.
Two identical, portable stage manager cubes allow for audio/video monitoring, intercom connect and access to the paging system. They are equipped with a Symetrix xControl and a custom nine-button paging panel allowing the user to page multiple zones within the building.
"Any theatre AV operator will speak to the importance of a robust page/program system, which is what is now operating at Baltimore Center Stage," says Peskie. With custom selector/volume controls throughout and superb speakers in public spaces, everyone can enjoy the program audio and be aware of any behind-the-scene happenings. The use of a Dante-based DSP has allowed for the most flexibility when it comes to routing audio to speakers for creating soundscapes in public areas. Masque Sound was excited to be part of this project.