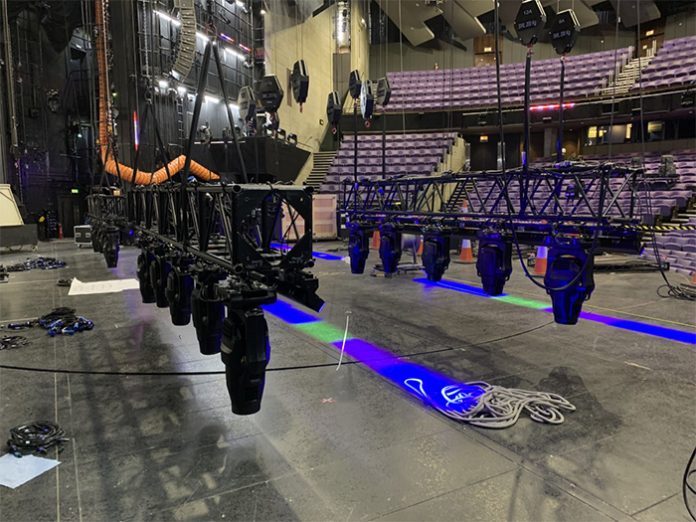 London-based Sparks Theatrical (Lighting) Hire have purchased seven Martin MAC Ultra Performance from UK distributors Sound Technology, which have gone straight onto the acclaimed new production of Straight Line Crazy at the influential Bridge Theatre.
The Bridge is the first theatre run by London Theatre Company which was founded by Nicholas Hytner and Nick Starr back in 2017. The lighting plays a prominent role in the production, lit by fast emerging LD Jessica Hung Han Yun.
Said Sparks MD, Paul Anderson, "Because I design and also run a rental company I can see in the field what the designers and technicians are working with. When we were asked to supply the next show at the Bridge I suggested the MAC Ultra Performance and Jessica said "absolutely".
In addition to using six Martin MAC Ultra Performance (with the seventh as a spare) Jessica is featuring 15 MAC Encore CLD, eight MAC Encore WRM and six MAC AURA XB moving heads on the production.
The MAC Ultra Performance has raised the bar considerably for bright moving lights and features enormous output across the zoom range, a next generation framing system, higher definition optics and astoundingly low noise levels. It also provides high resolution dimming, strobing and Martin's unique Animotion effect, with a 1:7 zoom range and precision focus control provided from the refined optical system.
Praising the new fixture, The Bridge's Head of Lighting, Nicole Smith, said, "The MAC Ultra is a great addition to the market offering a substantially brighter source than the Martin MAC Encore range. My main concern with using them at the Bridge Theatre was that the units might be substantially louder with all the extra fans required for a larger and brighter fixture. However, we have found that they are impressively quiet, much like the Encore, which makes them very useful to the theatre market and useful in a wide range of venues."
Meanwhile, Paul Anderson goes on to say: "From a rental company perspective it helps to limit the amount of companies we do business with. We have always had great after sales service from Sound Technology and now also have 100 MAC Encore Performance and nearly 100 MAC Aura XBs in our own hire fleet. They are all amazing products."
So quickly has Sparks recovered from the pandemic, when theatres went dark for 18 months, that they are about to relocate from their Docklands base to premises that offer three times the existing capacity. "I think that's a result of our high standard of kit and maintenance—plus the fact that most people who have worked for us here have also worked in theatre."
In conclusion, the Sparks' MD confirmed, "I can see the MAC Ultra Performance being the next big unit for us. We'll definitely be buying more.