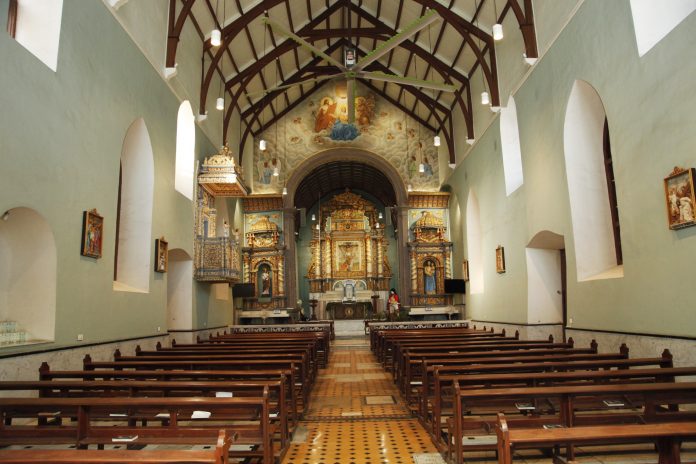 St. John the Baptist, a Portuguese style Christian church situated in the Indian city of Thane, north of Mumbai, can trace its origins back 500 years. Having been declared a heritage site by UNESCO, it recently underwent a massive restoration project spanning 18 months, including a complete sound system upgrade.
The older system had consisted of multiple speakers that were spaced along the wall of the church, and neither provided suitable intelligibility nor venue coverage. With the extension to the church (enabling it to expand the congregation size to around 5,000 for Sunday mass), the parish priest had initially requested a demo from another vendor to provide coverage for the growing number of people. "We were not very impressed with the sound," admits Cleo Pereira, from Martin Audio partner Zoodio, who has been specifying the British brand for the past decade. "Instead, we suggested the Martin Audio O-Line as a brand, since we use it in most of our installs."
Zoodio's Dylan Hilton, who also happens to be one of the parishioners, co-ordinated the project. He set up a demo of this discreet, premium micro line array through integrated Entertainment Solutions (IES), the Martin Audio distributors. "We suggested that this would do the trick, at the same time reducing the number of speakers required and enhancing the overall worship experience."
O-Line was duly adopted, with Zoodio supplying the components and their team of engineers, technicians and riggers worked on the fit out, to meet Dylan Hilton's specification, with four sets of O-Line (eight elements per side).
O-Line was supported with Martin Audio's CDD8 Differential Dispersion loudspeakers for the delays as well as in the corridors. "The reason," said Pereira, "was that we had a lot of constraints from the Heritage committee; they wanted an extremely compact system that would not block any of the murals and paintings present in the church and also a system that sounded good."
He also emphasised that this was the first time both the O-Line and CDDs had been used in India.
The biggest challenge had been rigging the O-Line as the walls of the church were not concrete but limestone — and so the utmost care and safety measures needed to be taken during the mounting phase. "The O-Line did a perfect job in reducing the reverberations within the church as the limestone walls had no acoustical properties."
Feeding the system is a combination of six vocal mics for the choir, an acoustic guitar and keyboards, a podium mic for the clergy and three mics on the altar.
In conclusion, Cleo Pereira said, "Having dealt with all the sound challenges, and taken proper care to avoid any further issues, Zoodio has brought back the voice of the church once more."
The Parish Priest, the Rev. Fr. Allwyn D'Silva is also delighted with the system, which he says provides him with excellent sound quality.