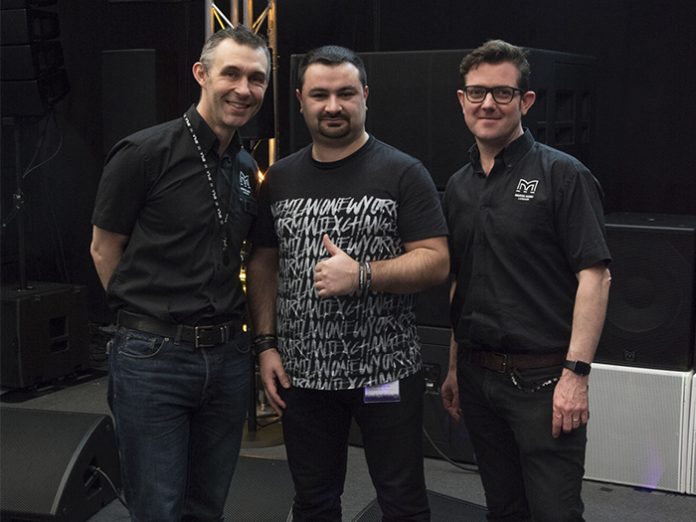 Martin Audio appoints PROAV as its new distributor in Azerbaijan.
Based in the capital of Baku, PROAV has been registered in 2012. Today, the partners are Elshan Aliyev and Rustam Hajiyev, and over the years they have built an impressive portfolio of leading distributed brands.
In order to bring Martin Audio into the fold, Elshan had earlier approached Managing Director, Dom Harter, whom he had known from previous companies.
"There were many things I liked about Martin Audio," Elshan said, "notably the quality of the sound, the product line in general and the strength of the brand name. We also liked the fact that they are utterly dedicated to sound systems – rather than running a diverse portfolio like other manufacturers – and their pricing is reasonable."
PROAV sees enormous potential for widening the company's brand profile, not only in Baku but other cities such as Ganja, Sumgait and elsewhere. "For example the second order received for WPM series came from Azerbaijan — and that will be installed in the district of Agstafa," Elshan revealed.
The company has wasted no time in setting out their marketing strategy, planning a series of open days and exhibitions, and complementing this with social media and door-to-door marketing. Elshan said their initial focus would lean heavily towards Martin Audio's CDD, WPM and BlacklineX ranges.
Explaining this rationale, he said: "Fixed installations will take priority to establish the quality of Martin Audio solutions – in fact there are already several installation projects pending, but we are also planning to rent out some models for small size events."
In conclusion the PROAV founder remains highly optimistic about Martin Audio's prospects – particularly given the brand's quality-to-price ratio. "When both quality and price are realised, customers soon start knocking on doors," he said. "And with the depth of the Martin Audio catalogue I am confident we will comfortably be able to meet the demands of both the rental and installation segments."