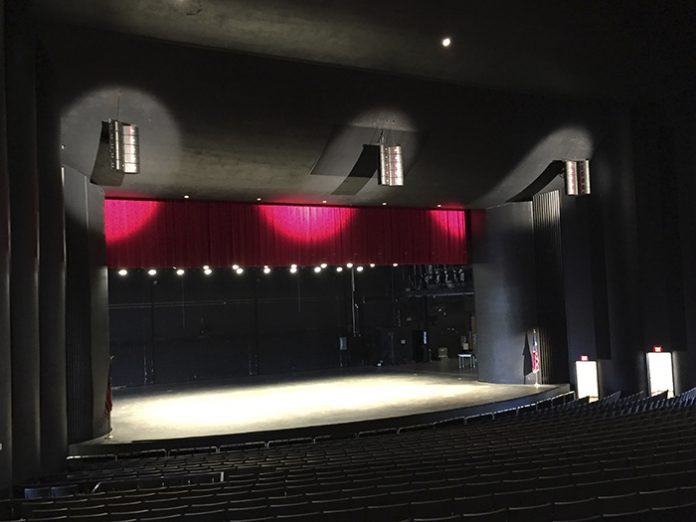 The Auditorium at the Abilene Convention Centre provides community members and visitors with performances that range from world-famous singers to hit Broadway musicals. The multi-purpose venue recently upgraded the experience with the installation of an Eastern Acoustic Works (EAW) Adaptive sound system.
Convention Centre management brought in Marsh/PMK international to design the new system with TMG Systems stepping up with installation. "I suggested an Anna system because I felt it was the most appropriate for their needs," explained Jerrold Stevens, Associate Principal, Director AV Systems for Marsh/PMK. "It not only provided the coverage the room needed but the fact that we could tweak the coverage with just a few mouse clicks was invaluable."
The theatre, which features continental seating and a two-level balcony, seats 2,091. One of the goals of the new sound reinforcement system was to easily modify coverage to exclude the 667 balcony seating when necessary. Stevens ultimately specified a left-centre-right configuration made up of five Anna modules each. The arrays were hung 30ft off the floor, under a curved ceiling, in front of the proscenium, making installation a challenge.
"In this situation there was no way to build the array and take it up as one unit," said Mark LaBouff, TMG Systems. "We couldn't get a motor up there. We ended up bringing all of the rigging down through the ceiling and hung the frame. From there we brought up the boxes – one at a time – and hung them individually. Fortunately, with the size of Anna and ease of rigging, it was much easier than it might have been."
Jerrold noted that another challenge was designing a system with very little information about the room. In fact, the team worked off scans of the original, hand-drawn drawing to complete the project. The information and data necessary for accurate modelling was simply not available. "That was another reason that I thought Anna was the best fit," explained Jerrold. "I knew the system could be easily adjusted through software. So, if our designs were off a bit, it would be an easy fix – which may not be the case with other systems."
Mark added: "The end result was a significant improvement over the previous system. The output is amazing. The system has significant headroom and it sounds fantastic. When we fired it up, it was amazing – hair-raising – it just sounded incredible," concluded Jerrold. "A great system in a great room that will accommodate their needs for years to come."