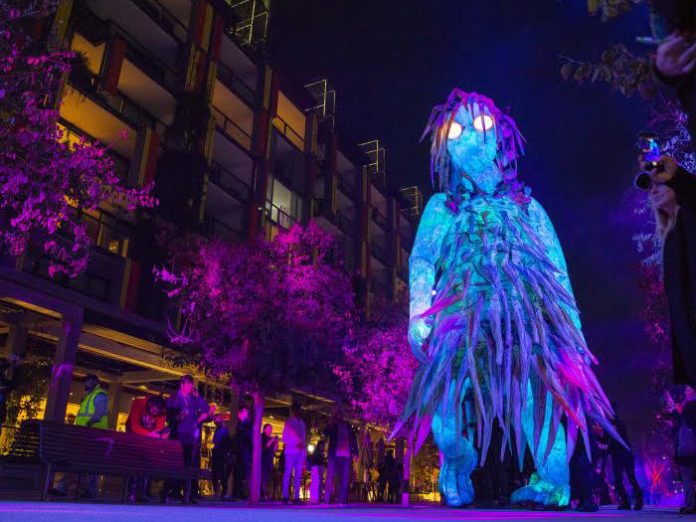 Mandylights played an instrumental role in transforming Wulugul Walk in Sydney's Barangaroo precinct into a magical bushland filled with dramatic lighting and mesmerising puppetry during Vivid Sydney 2018.
Designed by the artists at Mandylights, Erth Visual & Physical, Jacob Nash and James Brown. It featured a walking, 20-foot (six-meter) high, illuminated puppet named Marri Dyin wandering the site and interacting with spectators.
The project was commissioned by the Barangaroo Delivery Authority to showcase a unique creative programme.
Mandylights was responsible for the lighting design of Marri Dyin, including the use of a pair of Christie Pandoras Box Widget Designer, as well as 350 internal LED lights that were wirelessly controlled and triggered from both an onsite iPad and an external lighting control system.
Clint Dulieu, Technical Designer, Mandylights explained: "For this show, it was essential that both lighting and audio appeared organic and fluid, and transitions between cues and tracks had to be seamless regardless of where we were coming from or going to.
"We had therefore chosen the Widget Designer as it enabled me to customise a front-end interface that gave the puppeteers from Erth everything they needed."
Widget Designer has a rich feature-set for visual node-based programming , with its intuitive interface, Widget Designer enables both professionals and non-programming specialists to create truly immersive interactive experiences.
The first Widget Designer was used for the main control engine within the puppet itself and was installed on-board in a custom system that was built into a waterproof case. The second Widget Designer was deployed in the main control room and served as a bridge taking in cue commands from QLab show control, and outputting to the GrandMA2 lighting control system via telnet.
Clint explained: "At Mandylights we're extremely happy with the outcome of this project. We have delivered an entire precinct to great response from the audiences each night with all technical elements working perfectly for us each and every night.
"We also had great response from all stakeholders on the project and more importantly, the amazing feedback we've had from both public and press speaks for itself."
Michael Bosworth, Executive Director for APAC, Enterprise, Christie, commented, "We're delighted that the award-winning Christie Widget Designer has played a significant role in the staging of The Liminal Hour. We congratulate the project teams, in particular Clint and his team from Mandylights".