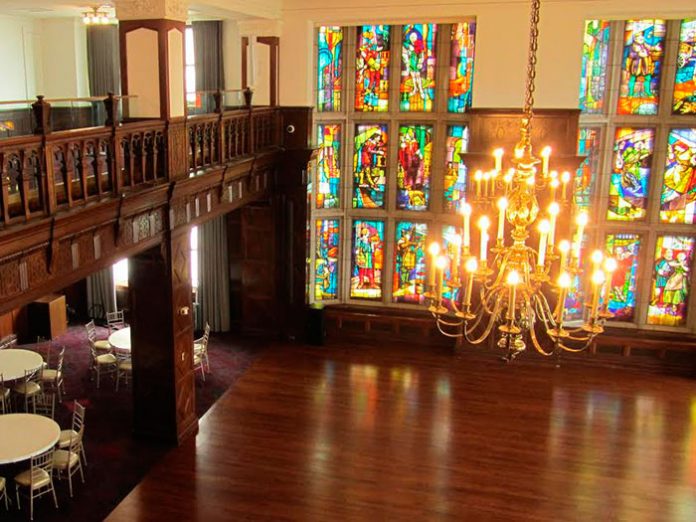 Appearing on the National Register of Historic Places, the Kansas City Club was established in 1882 as a business and professional men's social club. Now under new ownership and rechristened 'The Brass on Baltimore', this elegant downtown venue offers a variety of meeting and event spaces including two with newly-installed professional audio systems.
After a major renovation that restored much of its historical architecture, The Brass on Baltimore used portable audio and AV systems for most of its events. However, these portable systems, often supplied by a DJ, were of varying quality and typically looked out of place in the venue's elegant event spaces. For these reasons, The Brass on Baltimore asked Harvest Productions of Kansas City to propose permanently installed audio systems for its Rooftop Room and the Tudor Room.
Harvest's Martin Pilewski explained: "Our production division had managed events for The Brass on Baltimore and they were pleased with our services. So, they asked us to propose permanently installed audio systems. Their goals were consistent, high-quality audio using equipment that would blend well with the aesthetics of these two event spaces."
Martin designed audio systems using Community Entasys loudspeakers with VLF subwoofers. For the two-story Tudor Room, he used a double-stack of Entasys ENT-FR full-range columns on each side of the main floor. Community custom-painted the Entasys to blend with the room's newly-restored hardwood décor. A single, white ENT-FR, on each side of the balcony, supplements the main floor audio and a pair of VLF-210 subwoofers provide low-frequency support. QSC amplifiers power the loudspeakers and a Biamp Tesira system provides DSP services. The Tesira's automatic mixing allows hands-free operation for Tudor Room guests. Alternately, a DJ can plug into the system eliminating the need for portable loudspeakers.
The Brass on Baltimore's Rooftop Room is a smaller space that includes a large outdoor patio with a dramatic upper-story view of Kansas City. Harvest provided white Entasys columns with VLF-208 subwoofers for the Rooftop Room's inside area and a pair of W SERIES W2-228 weather-resistant loudspeakers for the outdoor patio. Like the Tudor Room, the Rooftop Room system offers hands-free operation but includes a DJ input for wedding receptions and other events. Harvest also installed a video projection system in the Rooftop Room with a hidden projector and easy-to-operate control system.
Martin said: "The Entasys loudspeakers blend nicely with the appearance of both rooms and we have great voice clarity and music quality. There's no feedback even when someone walks right in front of the loudspeakers with a wireless mic, and the DJ's love the systems."