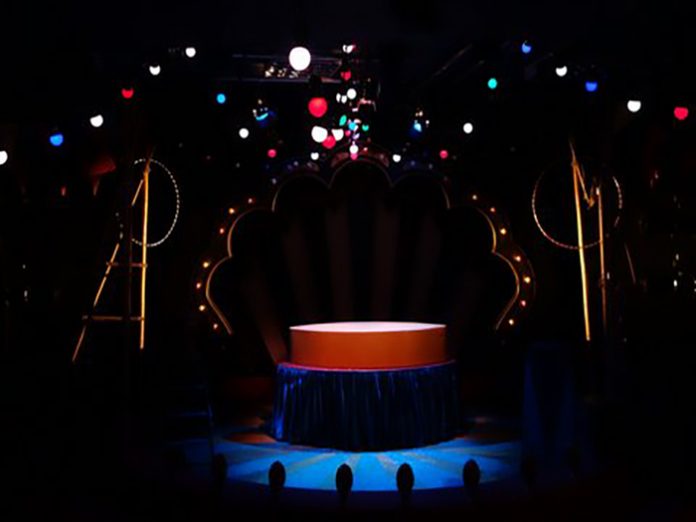 The Little Angel Theatre's latest show – a puppet adaptation of the children's picture book, The Singing Mermaid — LD Sherry Coenen incorporated Chauvet DJ's Festoon fixture into her lighting concept to provide dynamic looks.
Sherry utilised the fully pixel mappable Chauvet DJ LED Festoon to provide visual support for the beautiful, lyrical picture book adaptation, which tells the story of a singing mermaid who is tempted away from her home at Silversands to join the circus.
"The theatre required a solution which would give us a great deal of flexibility but also provide specific circus and underwater inspired looks for the new production of The Singing Mermaid," commented Sherry. "After hearing about the Festoon from a Chauvet rep at Showlight, I was really keen to try it in my design. The looks it's capable of creating left me deeply impressed, and it ended up being the lynchpin of the lighting concept."
Positioned in a three-stringed formation fanning out over the audience just out of reach above audience head height, the Festoon creates a circus feel throughout the room, whilst at the same time offering pixel-mapping technology to enliven the theatre's productions.
"The Festoon gave me the audience interaction I needed and loads of flexibility on a show with minimal dimmers," commented Sherry. "They are so versatile, I used them for everything!"
During the performance of The Singing Mermaid, Festoons are utilised for all manner of purposes. In addition to creating water effects such as waves under the sea, the warm illumination of Festoon provides a number of effects such as sunlight and fire. Adding to the impact of the show, Sherry was also able to use the fixture to create an 83-second sunrise that starts with all Festoons in blue and then, working from USC, changes through whites, peaches, pinks, oranges and finally settles into sunny yellow in a cascading fade-out over the audience, allowing them to accompany the mermaid on her hand-walking escape.
"The little children love the effects created by Festoon," said Sherry. "The changing season effect always evokes an 'oooh' sound from the audience. Everyone thinks the Festoon is just the greatest thing ever."
After the overwhelmingly positive reception to the fixture from audiences, the theatre decided to purchase the Festoon for the venue's stock. "The reaction has been amazing," commented Sherry. "It's great that the theatre decided to permanently add digital Festoons to the venue's equipment list so it can be available to other designers. I'm sure it will be a welcome addition to future shows."
With the runaway success of Festoon in the Little Angel's latest production, Sherry and the theatre's producers have connected the long and rich tradition of puppetry with the sizzle of contemporary show technology. In doing so, they have ensured that this valuable art form remains as relevant as ever to audiences at the Little Angel Theatre.