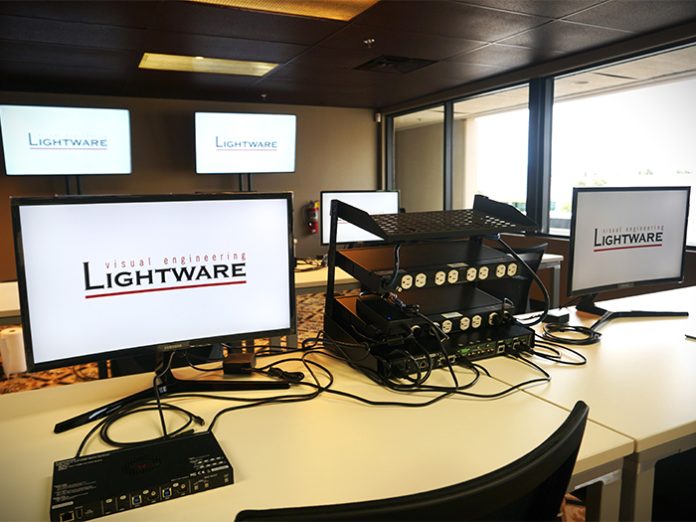 Lightware Visual Engineering, a leading manufacturer of connectivity solutions for the professional integrated systems market, has recently launched two new innovative training, sales and technical hubs in the UK and the USA as part of its continuous expansion and in-person customer offerings.
The two facilities are located in the City of London and Las Vegas, providing users with increased customer and technical support, comprehensive training and first-hand experience of Lightware's products and services in live environments.
The Las Vegas Discovery Centre and the London Experience Centre feature dedicated training rooms fully equipped with the company's latest signal management products, including the Taurus UCX universal switcher, a connectivity powerhouse designed to utilise USB-C technology to simplify collaborations in any meeting room environment. The venues are designed to supplement Lightware's extensive online efforts by providing an in-person venue for training and education.
The London Experience Centre also exists as a showcase of Lightware's solutions, enabling customers access to demos, testing as well as collaborative sessions on future technologies. These sessions are instrumental in developing a greater understanding of Lightware's products, while also providing Lightware with the knowledge to anticipate customers' future needs.
Meanwhile, the Discovery Centre in Las Vegas hosts educational courses that provide the opportunity for AV professionals to experiment and interact with a variety of Lightware devices, understand the simplicity and flexibility of integrating a Lightware system, and experience Lightware's high-performance device features that are widely trusted in the industry.
The Discovery Centre also provides an avenue for building strong relationships with Lightware's customers. During the two-day training sessions, attendees have the chance to engage with other industry professionals and Lightware experts. This aspect is pivotal as it helps Lightware to better understand their customers' needs and requirements, which in turn allows them to provide better service in the future.
"Understanding our systems is valuable for customers and AV professionals to gain an insight into what we do at Lightware and how our systems work." said Jason Tirado, President, Lightware Visual Engineering. "Customers, consultants, and integrators now have the opportunity to witness the innovation of Lightware products firsthand. The Discovery Centre not only provides insight into our products but into who we are as a company."
Craig Storey, CEO, Lightware UK, said: "I am delighted to offer our customers and partners an accessible innovative Experience Centre located in the heart of London. This hub enables us to connect with our customers and partners, to demonstrate what Lightware can offer and enhance the experience of working with Lightware and its products."