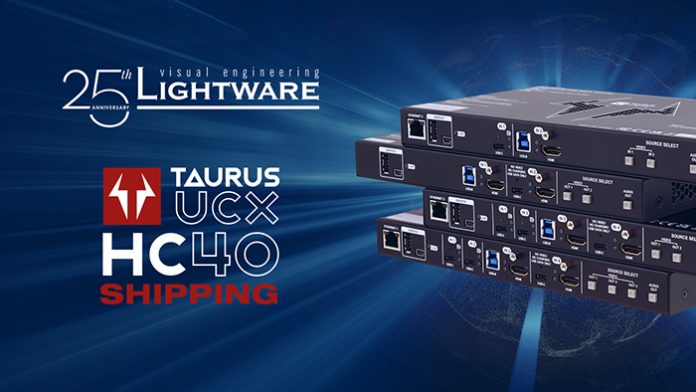 Lightware Visual Engineering has launched Taurus UCX HC40, a video switcher carefully designed with AV integrators in mind. This state-of-the-art equipment harnesses the potential of USB-C connectivity, bringing a transformative edge to AV installations.
Taurus UCX HC40 simplifies 4K video, audio, and control signal transmission, while providing power over a single USB-C connection. As with the previous UCX devices, Taurus UCX HC40 makes AV setups cleaner and more efficient, by reducing the use of cables and connectors. Moreover, with data speeds of up to 5 Gbps thanks to USB 3.1 Gen1, it ensures high-quality and ultralow-latency of video and audio.
The new Taurus variant brings an improved USB Hub, providing faster connections and enhanced compatibility with non-compliant USB devices and extenders. It also includes a front live LED for easy status monitoring, the ability to configure internal pull-up/pull-down for Room Occupancy (OCS), more flash storage space, and a new vent hole design for efficient cooling that keeps devices running at the optimal temperature.
Other features include:
Automated room control included through GPIO ports, besides of RS-232 and occupancy sensor connectivity.
Analog audio de-embedding.
Consumer Electronics Control (CEC) that allows interconnected HDMI devices to work seamlessly together.
Multiple USB 3.1 Gen 1 Connectivity that supports camera, speakerphone, touch monitor, and other USB devices.
In the 4×2 and 2×1 versions, the second USB hosts a port to USB-C (data only) to support active USB extender cables. This simplifies setups and ensures the seamless extension of AV systems.
Users who connect their laptop or other mobile devices via USB-C can charge up to 100W (120W total), thus eliminating the need to look for a wall plug and avoiding sudden meetings interruptions. Mac users can also enjoy an updated USB-Ethernet gateway for MacBook M1/M2 compatibility.
Gergely Vida, CEO, Lightware Visual Engineering, stated: "Our commitment to innovation is one of the characteristics of Lightware Visual Engineering, and it's embedded in each one of our products and solutions. With Taurus UCX HC40, we are moving forward, elevating installations with the latest in USB-C technology, and delivering superior experiences for AV integrators."
In November 2023, a Dante-version of the Taurus UCX 4×2 variant, known as the UCX-4×2-HC40D, will come with support for Dante/AES67 network connection, enabling the immediate de-embedding of audio signals from the HDMI source. These audio signals can be sent directly to an external audio system that is Dante/AES67 compatible.
The UCX-4×3-HC40BD product version, which will have the bidirectional Dante feature, will be available in early 2024.