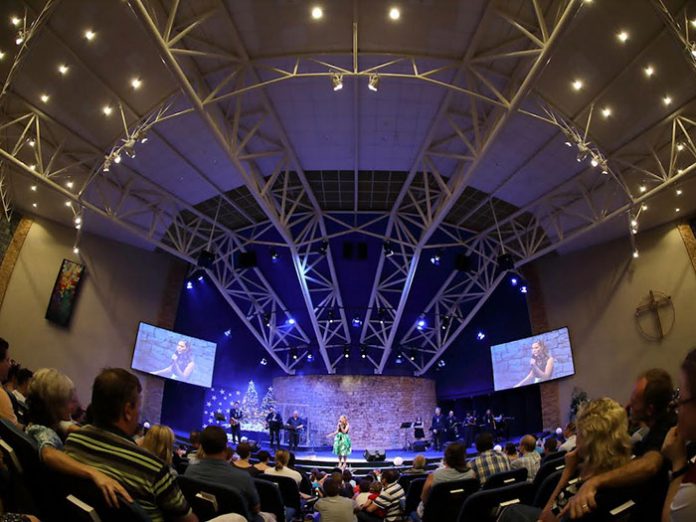 Carols by glowsticks and a picnic was held at the Rosebank Union Church based in Sandton. It was established in 1906 and is actively involved with missions and outreaches both locally and around the world. When a need arose to upgrade the auditorium's traditional lighting system, and having received numerous quotations from various suppliers, it was decided to call on the independent services of lighting consultant and designer Denis Hutchinson.
After a tender and shoot out specified by Denis, DWR Distribution were awarded the supply and install of 36 x Philips Showline SL Par 155 Zoom (19 in white), 2 x Robe DL4S (in white), 8x Robe VIVA, a Le Maitre MVS Haze Machine, control on a grandMA dot2 core and the necessary lighting bars and infrastructure.
Duncan Fourie has been the Campus Manager at Rosebank Union for the past six years and was the main force behind initiating the project. He wanted to replace the old cool white discharge lighting fixtures in the auditorium with a dimmable solution using LED technology to conserve energy. It took some time for the congregation to buy into the idea but in the end everyone agreed that it would be good to make the upgrade. "Denis Hutchinson was a breakthrough for us," said Duncan. "It was good to have a professional person on board. His whole approach was in line with who we are and what we were anticipating."
An experienced eye led Denis to recommend architectural alterations as the fundamental starting point. "It's one of those churches that had a huge bulkhead over the stage with rear lit projection screens built into it," said Denis. The bulkhead was also causing sound and acoustic problems.
To create an airy and welcoming space, the bulkhead was removed, and to everyone's pleasure, the renovation looked truly beautiful. This freed the church of having to use trussing that could lend to an unwanted rock and roll feel as the now exposed roof trusses could do the job.
While initial quotations given to the church leaned towards using mostly television lighting, Denis felt the church were at the starting point of broadcasting and recording their services, and would be better matched with low maintenance LED technology.
"Part of the brief was that although we were raising the light level to make it better for cameras –they were shooting at about f2.8 and we wanted to get it to at least f4 if not f5.6 which has implications for depth of field – the church did not want it to look like a brightly lit stage," commented Denis. "It still had to have a sense of warmth. I also felt it had to remain a church and not be transformed into a performance space.
"It was interesting when we did the shoot out," he adds. "We filmed it using their camera so that besides what I was looking at by eye we could look at the recording afterwards. The brief was not for professional broadcast quality lighting and we were pleasantly surprised with the picture we got. At the shoot-out we only had a limited number of units so we were shooting at roughly a third of what the final light levels were going to be. We are probably going to get two stops off when were done which is great. I'm quite happy that we're going to get the levels that we want and I'm hoping that we'll get to f5.6.
DWR's Dave Whitehouse initially worked on the project prior to relocating to the UK. He sought ways to assist Denis with his idea to discreetly integrate lighting fixtures into the auditorium's exposed roof and existing trusses. "It meant having to source clamps that are a different size to industry standard because the cords are actually 110mm rather than the standard 50 or 60mm. But I think it was worth it," said Denis.
Denis changed the ceiling colour in the area above the stage to navy blue and only installed black lighting fixtures up there. The ceiling above the congregation is white, and here Denis bit the bullet and went for customised white fixtures. The white fixtures chosen took longer to supply, and black fixtures were temporarily installed until their arrival. "The white was a little more expensive but it's subtle and more appropriate for the venue," said Denis. "In the long term it's going to look very clean and hopefully most of the congregation won't even be aware that the lights are there which is as it should be. I'm surprised that white coloured fixtures are not pushed more, especially in architectural spaces".
The open truss roof left no place to physically hide any cabling when hanging the lights and cable ties to match the steel work was used. "We did it slowly and carefully,' said Keith Pugin who headed the DWR install team and DimBright Electrical team, sub-contracted for the project. "When you are on the ground you don't actually see any cables which is awesome. Denis did the entire lighting design and designed a power and data infrastructure that can easily be added on in the future. He is very meticulous and it's such a pleasure working with somebody like that because right from the beginning he does the design and everything is installed as per that design.
The stage area is massive, about 6m deep and nearly 20m wide with another wide aisle of about 3m deep in front of the stage. As the aisle is also regularly used, Denis had to light this area as well as the stage.
The church took Denis' advice and installed more moving lights to allow bright and creative looks special occasions and events or when bands perform on stage. Robe VIVAs are rigged in various areas. "The fixtures give us flexibility and gobo work, and of course being LED technology they are low maintenance." said Duncan. "A highlight was the acquirement of the dot2 core. It's simplistic and user friendly to control lighting. The training by Gareth Chambers from DWR was brilliant."
For the bulk of the normal services the lighting will enable the audience to see the faces on stage properly. "When it comes to many churches, lecture rooms and the likes, very little consideration is given in the architecture to light faces at the correct angles so that they can be seen at a distance. Part of this design was to ensure people's faces could be seen clearly without necessarily being on camera and I think that's really important. Facial clarity is how to get the message across."
There is something really interesting about designing systems as opposed to designing shows. "It's a different mind-set, a whole new world and very exciting," ended Denis.