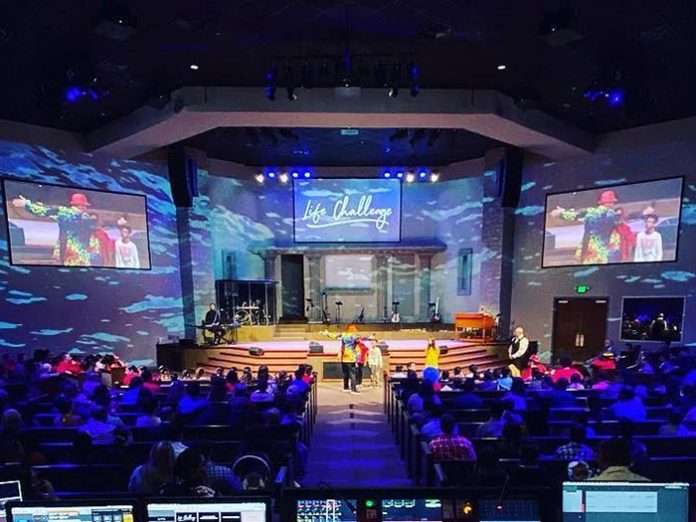 There is a special joy the production team at Life Challenge Church takes in putting together Sunday morning kids services. Creative spirits run a little more freely, and new ideas are waded into more deeply, as everyone channels the child's imagination inside their adult selves to make bible stories come to life for young worshippers.
"The kids service gives us an opportunity to go a little more outside the box," said Gabriel Loera, Technical Director at Life Challenge Church. "We do more immersive and moving fixtures and contrasting colors across the crowd. We use more upbeat and themed EP backgrounds during the full service rather than just during worship. The kids really respond well to the full immersive environments."
On October 18, the church gave adult worshippers the opportunity to channel the childhood imagination that resides inside them with a "Sunday Nights Kid Service," an event that shared imagery from the children's program with the congregation at large. Helping to create this unique experience was a collection of CHAUVET Professional fixture supplied by Sweet Southern Sound.
"We do this several times a year," said Gabriel. "It's a family focus initiative that lets parents experience worship as their children do every Sunday morning. Everyone really enjoys it."
Contributing to the immersive environment through the sanctuary for the event were richly saturated colors from the rig's COLORado and Ovation fixtures. Gabriel positioned six COLORado 1 Solo fixtures above the first rows of pews and six over the upstage deck to provide a consistent color wash throughout the performance area. He also colorized the audience area with the light from four Ovation E-910FC ellipsoidal fixtures.
To complement this colorization, he relied on the warm white light of 12 Ovation F-265WW Fresnel fixtures. He positioned six of the high powered warm white units above the crowd, and drawing on their tight zoom range used them to focus light on the altar. The remaining six units were position over the upstage deck and used for back washing.
To add texturizing patterns that complemented the projections that surrounded the stage, he relied on three Maverick MK1 Spot fixtures. "This was a complete design package that had us use multiple elements to put the audience in the middle of Bible stories, from three Hebrew Boys Being Saved From The Fiery Furnace to journeying to the sea," said Gabriel "The stories are told to touch the imagination of children, which is why everyone loves them."