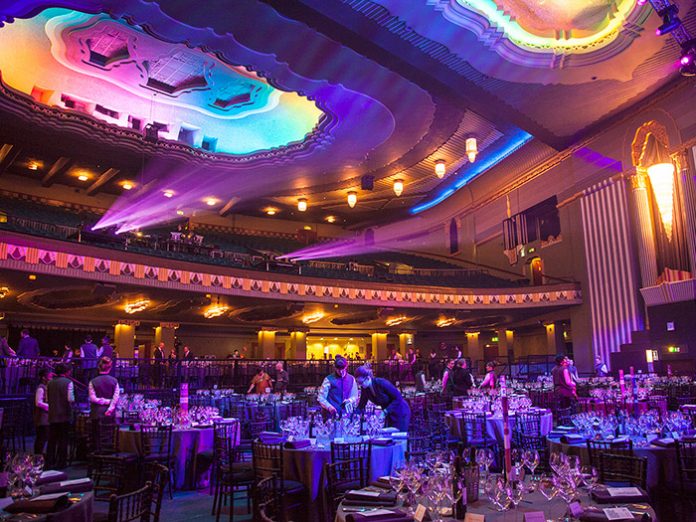 Hammersmith's legendary live music venue the Eventim Apollo – renowned for hosting global superstars including David Bowie, Kate Bush and The Rolling Stones, and staging sell-out runs from comedians Michael McIntyre and Billy Connolly – has renovated its space for premium corporate entertaining in the largest deployment of its kind in the world.
The actual unveiling was 2015, over 2 years since its notable revamp in 2013, which saw it returned to its 1932 former architectural glory; it remains one of the United Kingdom's biggest and best-preserved Art Deco super cinemas. Now, as the venue is halfway through a 10-year capital investment plan, the beautiful interiors, ornate plasterwork, marble staircases, and meticulous finishes, plus a new flat floor in the auditorium is all set to establish the venue as one of the most coveted private hire venues in the UK.
The venue has made significant investment in an aluminium modular platform floor produced by Prolyte Group, which can be installed overnight to transform the sloping auditorium, perfect for watching gigs, into a split level flat floor, ideal for seated events for up to 720 people. Any section of the floor can also be modified to build in bespoke features including fish tanks, fountains, ponds or hills, while the entire platform could even be turfed for an inside garden party.
With adjustable platform flooring that will last a lifetime, the space can accommodate everything from awards ceremonies and cutting-edge product launches to fashion shows and wedding receptions, as well as other types of ceremonies.
Embarking on a complete renovation of the venue, Prolyte Group distributor Stage Electrics was contacted to lend their expertise. Based on their knowledge and experience Stage Electrics proposed a multi-purpose platform floor, including installation services. Technical know-how would be provided by the Stage Electrics staff,which would be relied on to install the floor for different events. At the same time Stage Electrics stock would guarantee the provision of spare parts or extra parts at all times.
Davie Bell, Client Manager at Stage Electrics commented: "This multi-purpose platform gives the Apollo a myriad of user possibilities, turning the venue from a concert hall into a true multi-purpose location, enlarging its scope of possibilities and therefore its revenue base. As Prolyte distributor we were well aware of the almost limitless possibilities the StageDex staging systems offers. We know we could find a solution to almost all requirements – an ideal starting point."
Stage Electrics together with the technical team of Prolyte, designed the platform, which consists of over 400 standard 2 x 1 m. decks and some very special custom decks to fill out the floor completely. This was the tricky part, the floor needed to fit the complete arena exactly. Offering not only stability, but also an overall loading capacity of 750 kg/m2. Over 50 special decks were designed to fit the curves and angles of the building. Requiring exact drawings, as well as precision manufacturing, since tolerances were very narrow. The complete platform is built on adjustable stage legs to counteract the sloping floor. While for the largest part the standard basic line decks are used, Prolyte advised to use top line decks in combination with a 100kg/m railing for the outer parts. With these parts open for public access, this was a basic requirement.
Distributing Manager for Prolyte and Project Supervisor, Paul Hadfield stated the following: "When you deliver such a system, you really need to make sure all requirements and regulations are met. After all, the system needs to be 100% secure and offer safety for as well the audience as the performing artists and technicians."
Installing the floor is a question of hours – a trained crew can install or re-install the complete floor in different configurations within hours. Enabling the venue to book concerts or corporate events back-to-back. No need to say that a reduction of production time greatly increases the amount of bookable days for the venue.
Heiko Kacimi-Alaoui, Deputy General Manager & Head of Corporate Events provided concluding comments: "Watching the venue transform so radically after years of underinvestment has been an incredible journey, and we already have further building upgrade plans in the pipeline. While music and comedy remain an integral part of the venue's history of live performance, I'm excited to see how the corporate side of the business grows now that we can host seated events, kicking off in October with Event Magazine's prestigious annual Event Awards, the Mercury Music Prize and Knights of Illumination event."
https://www.prolyte.com