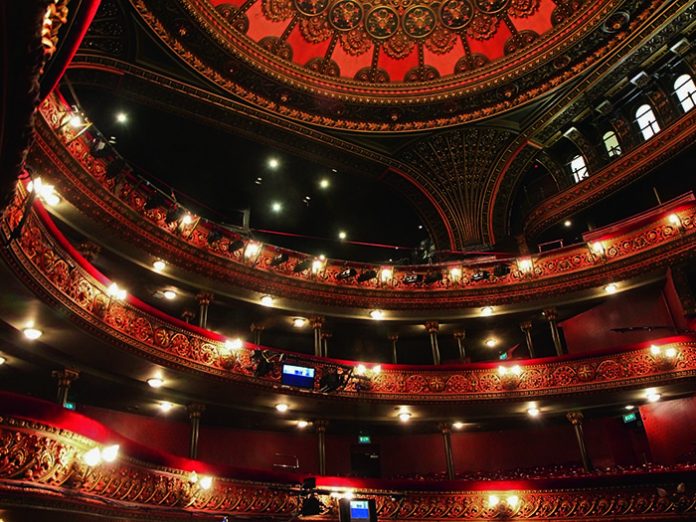 The Leeds Grand Theatre & Opera House is considered a major milestone in Victorian theatre building. Built in 1878, it opened with a performance of Much Ado About Nothing and has since seen its boards trodden by a galaxy of stars, from Sarah Bernhardt to Julie Andrews and Laurence Olivier to Morecambe and Wise. With a capacity of 1,550, the auditorium is home to the widest possible variety of entertainment and has staged a wealth of notable drama, dance, comedy and music, including touring productions of West End and Broadway shows. The Theatre is also home to Opera North and is regularly visited by the Northern Ballet.
An extremely busy theatre, The Grand was looking to upgrade its AV system in both FOH and backstage, in order to deliver a high-quality experience for audience and performers alike. The Theatre required a system to control the audio output in both areas. This was to include a communications corner with a paging facility, a large screen for system monitoring and control, a volume control solution for dressing rooms, as well as the potential to expand functionality going forward.
Trusted partner Pro Audio Systems was engaged to provide a solution and consulted with Audiologic over a best-fit solution, as Ben Spurgeon, Senior Application Engineer at Audiologic explained: "When Pro Audio Systems first approached us regarding this project, we were incredibly excited to be involved in the work. After speaking with their team, it was clear they knew in which direction they wanted to go with modernising the system and I knew that QSC offered the complete solution they were seeking. Working together, we managed to create a highly functional design with custom interfaces tailored to be usable by any operator. Now that the base system is in place, there is a huge opportunity for expansion and development of the functionality and to take the system even further."
Audiologic recommended the Q-SYS Ecosystem from QSC. Q-SYS is a feature-rich, software-based integrated audio, video and control system with unmatched flexibility and scalability. At Leeds Grand Theatre a Q-SYS Core 110f processor sits at the heart of the system with a QSC TSC 116w touch-screen used for system control and monitoring. Besides, 19 QSC TSC 55W wall-mount touch screens were installed in the Theatre's dressing and crew rooms. The main function of the touch screens was for audio volume control, although the technical team at the Theatre has plans to develop the system, as Chief Electrician at Leeds Grand Theatre, Dave Greaves comments:
"We wanted a system we could expand on in the future. We have plans to add video feeds to our dressing rooms and Q-SYS gives us the backbone we needed for our system, letting us expand as we go on. The system has performed very well – the touchscreens are intuitive and we have had no complaints!
Brian Lumb, MD at Pro Audio systems added: "Q-SYS was a great fit for the spec. Audiologic has been very helpful with the system implementation – their Senior Application Engineer, Ben Spurgeon, was happy to help out with the Q-SYS design and answer any of our questions."
The team at Leeds Grand Theatre are very happy with the outcomes delivered by their Q-SYS install. The project was expertly conducted by Pro Audio Systems during downtime, while the Theatre remained open.