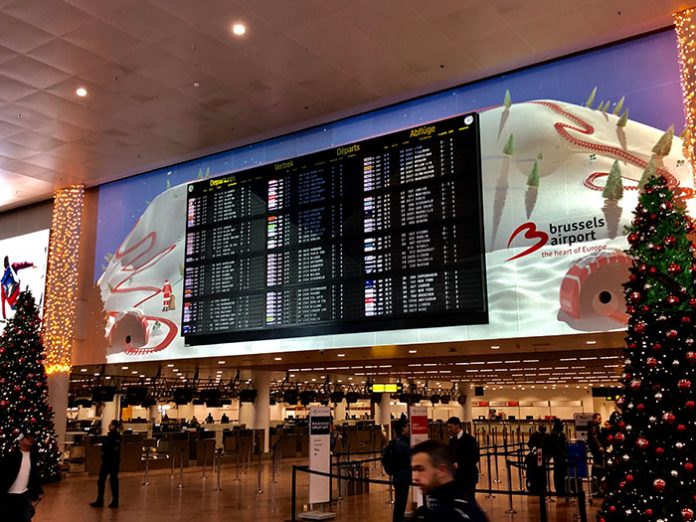 December is typically a busy month at Brussels Airport, with over one million of passengers either escaping the Belgian weather by heading to sunnier destinations or travelling to meet relatives abroad for the end of the year festivities.
The entire airport is transformed into a magical winter wonderland with Christmas trees, trolleys creatively transformed into sleighs, Christmas elves and even a real Santa Claus! But this season the airport team decided to go full force by also including Barco projection in the Christmas decoration.
"Our business passengers who are taking the plane regularly know the ins and outs of the airport. But families with kids usually have a lot more stress when planning an aeroplane trip. With these decorations and activities, we really want to create a relaxed atmosphere at the airport. Their holidays should start from the moment they enter the building," said Cindy Mussche, Senior Passenger Experience and Commercial Marketing Manager at Brussels Airport Company.
The projection is a first for the airport, the iconic split-flap display in the terminal is now framed with wintery scenes, and in Pier A the walls of the lavatories along the walkway are also decorated with animated Christmas content and warm wishes for the upcoming holidays. The 8 UDX-4K40 projectors really change the entire vibe at the airport.
The airport relied on the Belgian agency Amphion for help with the creative concept and installation. They turned to Beam Inc who suggested the Barco UDX projectors. "We've been working with Barco projectors since 2006. We've never had any issues with the Barco projectors, and the quality is simply incomparable with the competition," said Jan Vanbriel co-owner of Beam Inc.
Safety was an important factor in this set-up. The compact and lightweight UDX easily allows for elevated set-ups with all projectors and cables out of reach of the visitors. And thanks to the integrated cooling system the high-brightness projectors can go 24/7 without compromising on the image quality.
Excited about the result, the airport is already considering the use of Barco projection for future themed decoration.