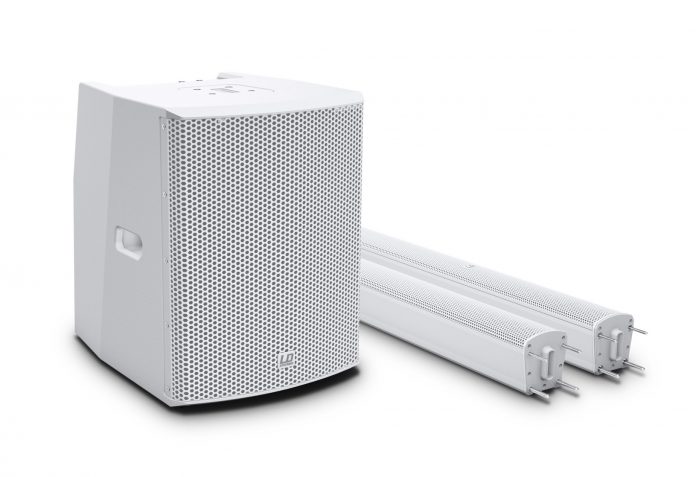 With its new technical solutions and new user-friendly features, LD Systems introduces the active column systems MAUI11 G2 and MAUI28 G2, the second generation of these successful PA systems. As a pioneer in the area of column PA systems, the development department of the Adam Hall Group – to which the brand LD Systems belongs – has utilised its many years' experience along with extensive, practically-oriented user feedback during the revision of the new systems.
Just like their predecessors, the MAUI11 G2 and MAUI28 G2 (both available in black and white) are extraordinarily easy to use PA systems for small to medium-sized gigs or fixed installations. Their respective outputs have been increased using class D amplifiers to a 1000 watt peak (MAUI11 G2) and a huge 2000 watt peak (MAUI28 G2). By using these high-performance power amplifiers, the weight of both column systems has also been reduced, making transport and the range of applications possible in conjunction with the two-part columns (a new feature of the MAUI 11 G2) even more convenient.
The subwoofer housings are made of strong, 15 mm thick wood and accommodate two custom-made 8-inch woofers (MAUI 28 G2) or three 6.5-inch woofers. The lightweight aluminium column systems are equipped with high-quality connectors and feature 16 x 3-inch drivers (MAUI 28 G2) or 8 x 3-inch drivers to provide excellent sound quality and accurate voice reproduction. Newly developed dual 1-inch neodymium tweeters deliver crystal-clear highs from both systems. They are coupled to BEM (Boundary Element Method) optimised wave guides for even better sound dispersion.
Four-channel mixers with Hi-Z input options, stereo line inputs and Bluetooth® audio streaming in both systems are further highlights that make both systems now even more flexible and user-friendly. Auto-adaptive 24-bit signal processing with LD System®'s own DynX® DSP technology provides distortion-free sound even at high volumes and ensures an excellent sound experience.
Accessory kits for the new MAUI11 G2 and MAUI28 G2 offer additional flexibility, enabling the speaker columns to be used separately from the subwoofer: for wall mounting in fixed installations with two different mounting options, or with an elegant stand for positioning the columns next to the subwoofer. To match the black or white models of the column systems, the installation kits are also available in both colour options. Padded covers and carrying bags for safe storage and convenient transportation complete the range of accessories.
Viktor Wiesner, Pro Audio Product Manager: "With these totally redesigned versions of the MAUI 11 G2 and MAUI 28 G2, we provide our customers up-to-date column systems, which, thanks to their flexibility and outstanding sound characteristics, are suitable for a wide range of applications. The optional mounting accessories and the ability to operate the columns and subwoofer independently of each other also make this generation of MAUI very interesting for fixed installations."