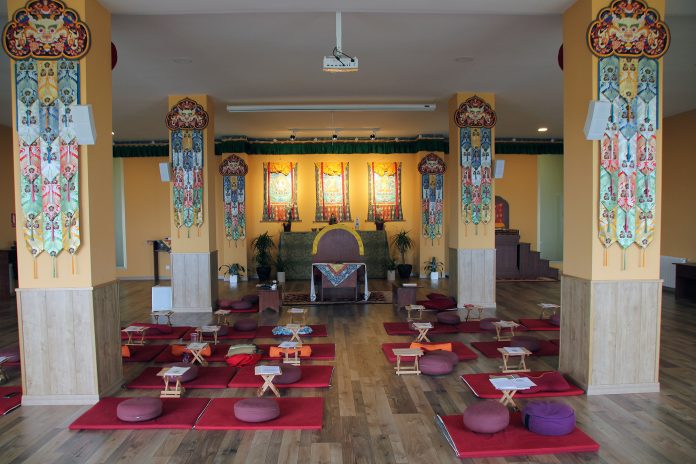 The International Centre for Buddhist Studies was opened in Pedreguer, in 2006, of which lies on the Costa Blanca. Located on top of the 246-metre high La Sella Mountain, offering extraordinary views of the Mediterranean lies Europe's largest Tibetan Buddhism establishment, run by His Holiness Sakya Trizin, a temple that features several rooms for meditation and ceremonies.
"The centre's main room is very spacious and has high ceilings. As such, its natural acoustics are not ideal," explains Denia Music's Rafael Torres who was responsible for the planning and installation of CURV 500 systems within the International Centre for Buddhist Studies. "The Buddhist ceremonies are also very particular because the Lama speaks extremely quietly and always sits on the floor. Our common objective was therefore to provide a system that projected the voice efficiently and accurately whilst also integrating discreetly into the aesthetics of the space."
After an extensive demonstration, Denia Music and the Centre's Director chose an LD Systems CURV 500 system comprising 12x pairs of CURV 500 S2 array satellites, 6x CURV 500 Smart Link adapters, 2x CURV 500 iSUBs and 6x CURV 500 WMB W wall-mounting brackets. The entire system is driven by two CURV 500 iAMP Class D power amplifiers. In order to achieve optimum sound dispersion across the large room, Denia Music hung individual array components from the ceiling and also installed them on several pillars. "The key to this was the CURV 500 satellite's wide horizontal dispersion angle of 110º," concludes Rafael Torres.
https://www.musicdistribucion.com/puntos-de-venta/48-denia-music/