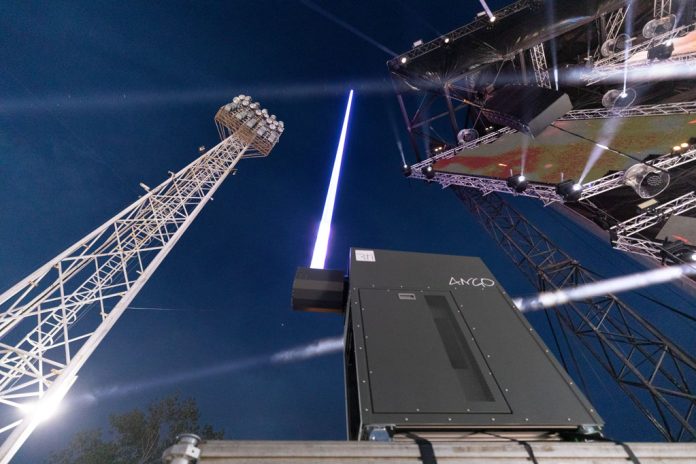 Laserworld's most powerful RGB white light laser show system with moveable beam, the RTI ANGO 600, has received a feature upgrade to improve its transportability and flexibility of use.
The 2023 version of the unit comes as a split version, meaning that the AC unit can be split from the actual laser device, making it connected by the two hoses for the cooling liquid – and this also applies to the smaller RTI ANGO 300.
The RTI ANGO 600 is an extremely powerful laser system with a special beam deflection that allows for pan and tilt movement of the 600 W laser beam thanks to a special mirror.
The beam has a diameter of 10 cm, so is extremely focused, and with its impressively low divergence of roughly 1 mrad it is designed to maintain the laser power over long distance.
With ultra high power laser systems, often the major challenge is to achieve a good white balance and while maintaining a sufficient portion of red. The RTI ANGO 600 has 200W of bright red, 170 W of green and 280W of royal blue, so it mixes white very well, and has significant visibility due to the enormous amount of green.
The RTI ANGO laser systems can be controlled with DMX and ArtNet.