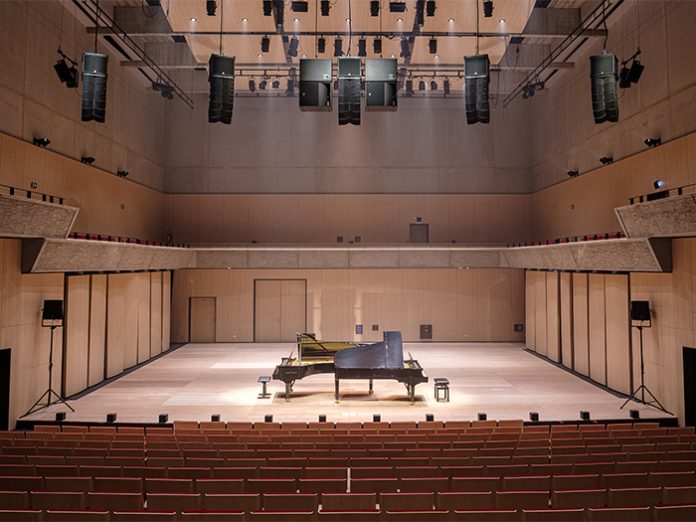 Namur Grand Manège Concert Hall recently opened its doors following a major three-year renovation project. The ambitious €20 million redesign transformed a historic military riding school into a modern cultural centre featuring an intimate 800-capacity auditorium, made exceptional by its excellent acoustics and soundproofing. Specifying state-of-the-art technology, the venue's AV team had only considered a traditional left/right sound system, but they were so impressed with L-Acoustics' progressive L-ISA Immersive Hyperreal Sound that the technology has become the centrepiece of the venue's exemplary audio system.
Situated in Namur's city centre, the renovated Concert Hall hosts two complementary cultural institutions, the Centre of Vocal Art and Ancient Music (CAV&MA) and the Conservatoire Balthasar-Florence de Namur music school. It will also serve as a home for the city's world-renowned ensembles, including the Namur Chamber Choir and Millennium Orchestra. Emulating some of the best philharmonic halls around the globe, the objective of the new Concert Hall is to gain a similar reputation as other premium classical music venues. To this end, the Hall boasts a unique acoustic design, which provides a longer reverb time than a typical concert hall to complement the ancient music performances of the CAV&MA.
"The choice of loudspeaker system was a major component of the building design, even though a significant proportion of the programme is classical music performed acoustically, without the use of a PA," explains Arnaud Delorme, Senior Application Engineer at L-Acoustics. "The technical team was keen to invest in a system that works well for genres other than classical, such as jazz, and to sonically preserve the natural acoustic of the venue when the PA is in use. The look of the system was also of paramount concern, and the team was keen to avoid overt signs of equipment in the audience's sightlines. They were even committed to un-rigging the PA system each time they had a classical concert to achieve visual simplicity. In short, the system needed to be integral yet invisible."
While a sound reinforcement system was necessary for the venue's size and non-classical content, "We understood that the technical director was sceptical about PA systems in general, and line array systems in particular," Delorme explains. "We were confident that a spatial audio system was likely to allay his concerns, so we avoided demoing a traditional stereo design, and this bold move persuaded the team to consider L-ISA."
Several non-technical guest musicians and audiophiles were invited to a series of listening tests with systems from different manufacturers and asked to give their opinion on the sound quality. "We wanted a system with natural sonic quality, and everyone agreed L-Acoustics and L-ISA was the right choice to achieve it," comments Manuel Mohino, Artistic Producer and Sound Engineer at the Grand Manège Concert Hall.
L-Acoustics, collaborating with Brussels-based pro AV specialists XLR, devised a specification and room diagram for the hall. This comprised five arrays of the brand's popular Kiva II cabinets, six per array, topped by an SB15M subwoofer in each array, and two clusters of KS21 subwoofers in cardioid configuration placed on either side of the central arrays. Twelve 5XT compact cabinets provide spatial frontfill along the stage ensuring the continuity of the spatialisation for the first rows, and five hangs of X12 are positioned for delay in the middle of the auditorium to cater to the back of the balcony, replicating the front sonic image for the balcony. Finally, there are four X8 speakers for out-fill. Coaxial X8 and X12 were also supplied and can be used for monitoring or as a mobile system. An L-ISA Processor is used for spatial audio processing and the installation is powered by 11 LA4X amplified controllers – nine for the main system and two for the mobile. Three LA12Xi amplified controller are also provided for the spatial front-fill. A P1 Milan AVB Processor and M1 measurement platform are also installed to monitor system performance
"The quality of Kiva II is widely recognized. It has exquisite reproduction, especially in the high-frequency range, which is greatly appreciated in classical music circles. The SPL is more than enough for the venue at 23 metres deep," comments Louis Lukusa from XLR. "One of our challenges was that audiences are accustomed to seeing speakers on the side of the stage, while L-ISA configurations require positioning speakers across the front of the stage and around the venue. We devised a plan to minimise the system's visual impact without compromising the install, hanging all the cabinets with cables from a custom-built truss, rendering it a semi-fixed installation. This provides the system's astonishing 3D sound reinforcement in an easy-to-remove and re-install format. It's a truly custom-made solution!"
"In all my time as a classical music engineer, I have struggled with stereo sound and trying to avoid the hot spot between two loudspeakers, either live or in the studio. I am thrilled to discover a technology that finally solves this problem," concludes Mohino. "Visually speaking, the L-ISA configuration is light and discreet. The hall's acoustic design would be tricky for any PA system but is easy to manage with the L-ISA technology, and the system's precision to cover the audience very accurately was important for us."