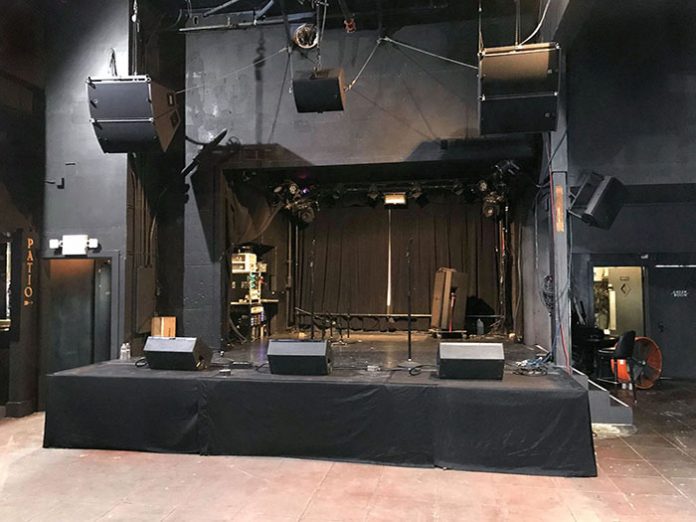 Echoplex and The Echo, both owned and operated by Spaceland Presents, recently experienced major upgrades in audio fidelity with the installations of L-Acoustics speaker systems.
Turnkey solutions company and official L-Acoustics dealer, 1.61 Productions, designed, supplied and installed the new systems for the sibling venues, located in L.A.'s hip Echo Park neighbourhood.
Music fans visiting the 660-capacity Echoplex, which opened in 2006 and has hosted intimate performances from top artists like The Rolling Stones, Nine Inch Nails and Green Day, are now enjoying shows there on the room's new L-Acoustics K2 line array system—a "first" for a live music club in California. The installation took place in November 2017, just one month after 1.61 Productions put a smaller L-Acoustics ARCS II system into Echoplex's 350-capacity sister venue, The Echo, which opened in 2001 and occupies an adjoining building upstairs. Over the past 17 years the spaces have become go-to destinations for local music events, dance nights and a wide variety of touring acts, in the process introducing some of the hottest bands to the L.A. music scene.
The opportunity to upgrade the two venues arose out of an existing relationship with Mitchell Frank, founder of Spaceland Presents, the events promoter behind Spaceland, Echoplex, The Echo and the Regent Theater. "We've been working with Mitchell on various pop-up events for nearly a decade, so when the chance came to help the last of the truly independent L.A. promoters and venues get the systems he'd need for the next 15 to 20 years, we were proud to help," said veteran FOH and platinum record mix engineer Patrick Mundy, who co-founded 1.61 Productions with technical director Steven Cobilich, a fellow hybrid live/studio mixer and an L-Acoustics-certified system engineer.
"L-Acoustics makes an incredible product—it's so transparent and there are no artifacts," Patrick continued. "With K2, in particular, Mitchell has an infinitely superior system that is rider-compatible and really serves the Echoplex space well." L-Acoustics speakers also offer vertical integration, he said. "You can go from playing the Echo to playing at Coachella"—a festival that features L-Acoustics systems on most stages—"and that file is going to translate well, which is good because many bands that start out in Mitchell's venues soon find themselves performing at Coachella and on other major stages. He and his team really have their fingers on the pulse of what's going to be big soon."
"I am very excited that Echoplex is one of the first West Coast venues to install the 'almighty' K2, which is what Terminal 5 and Brooklyn Steel both have in New York City, so we knew we were in good company," explained Spaceland Presents' Mitchell Frank. "During the install, even before the room was tuned, I loved what I was hearing right 'out of the box'—five-way, three-dimensional depth and throw. Where most systems fail, we were getting a clear sense of being enveloped by the music. Thanks to Patrick and Steven at 1.61 and the L-Acoustics team, we now have the ultimate tour-friendly PA system. No matter where you are standing in Echoplex, you are covered in perfect sound.
"We produced a 3D model of our proposed K2 speaker solution using Soundvision software, submitted it to L-Acoustics' design team, and it came back with their full approval, which was an honor," he says. "With the new system, the energy stays perfectly focused on the audience areas and there are no dead zones."
The new rig at Echoplex now includes left and right arrays each comprising three K2 elements flown below a single K1-SB sub from the existing truss. Four KS28 subs are arrayed below the stage for additional low frequency extension. A single coaxial X12 is positioned above the stage for center fill while two coaxial X8 delay speakers installed on the building's columns out in the house provide coverage at the rear of the room. One LA4X, a single LA12X and three LA8 amplified controllers drive the system.
Upstairs, the new system at The Echo comprises a flown rig of two L-Acoustics ARCS II per side, a single coaxial X15 HiQ hung for center fill with a coaxial X12 providing fill to a side area, and four SB28 subs below the stage thrust. Three LA8 drive the system.
"It's really exciting to bring touring-quality concert sound reinforcement to such an iconic pair of venues," Patrick concluded. "For 17 years The Echo and Echoplex have been L.A. institutions. This installation of L-Acoustics loudspeakers has helped them move forward so that the next 17 years are well protected. Now, in the L.A. scene, the bands that come through really have a solid and safe place to play."