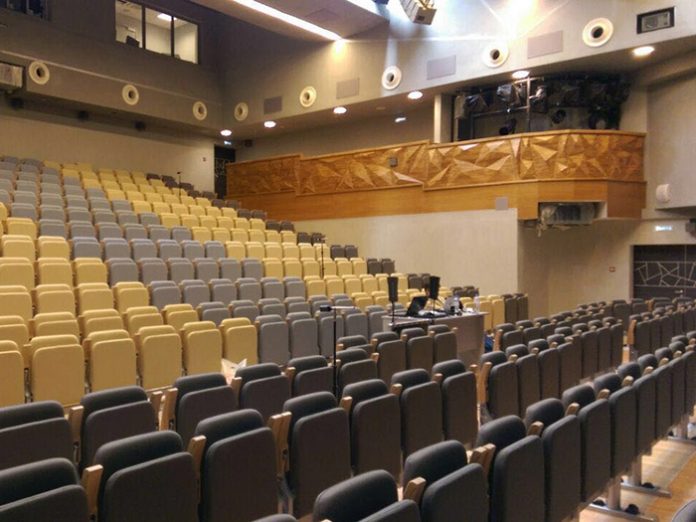 In the 30 years since Russian theatre Director Designer, Oleg Tabakov and Set Designer, David Borovsky established an 'alternative' theatre in a small, damp Moscow basement, the name Tabakerka has become legendary to the city's theatre lovers. Despite often challenging times under the Soviet regime, the company thrived and Tabakov has just opened a brand new, 400-capacity venue. Located in Moscow's Sukharevskaya Street, 'The Stage at Sukharevskaya' features an L-Acoustics loudspeaker system.
Operating in tandem with the original basement venue (now named 'The Stage at Chistye Prudy'), a key aim of the new venue was to continue the sense of intimacy so familiar in the original venue, yet to allow it the flexibility to stage any kind of performance. To achieve this, certified provider and distributor of L-Acoustics products, Sonoruss, supplied the L-Acoustics elements for the first Vivace acoustic enhancement system in a Russian theatre system, installed by Salzbrenner StageTec. 44 L-Acoustics loudspeakers in RAL colours delivered exceptional acoustic versatility, yet were visually unobtrusive.
"Installing L-Acoustics with our Vivace system was a real breakthrough for a fairly conservative drama theatre," said Igor Novikov, technical installation director at Sonoruss. "It opens up completely new possibilities for any production's director, sound engineer and the audience, without physically altering the venue to change its acoustics."
The L-Acoustics loudspeakers used in conjunction with the Vivace system comprise16 5XT, 12 8XT and 16 12XT, placed around the perimeter of the auditorium.
"This combination delivers almost limitless possibilities, especially when combined with the outstanding natural acoustics of the venue," said Alexander Zaitsev, Tabakerka head of sound.  "L-Acoustics loudspeakers are recommended for use with Vivace, but we chose them mostly because of their exceptionally natural sound, which is very important for the virtual acoustic system."
Importantly, the L-Acoustics loudspeakers are almost invisible, with most being concealed behind decorative, acoustically-transparent panels and all being custom-painted by L-Acoustics. "The fact that our loudspeakers can be painted in any RAL colour is very convenient for venues where aesthetics are very important," added Liliya Gainutdinova, the company's brand manager for Russia.
The new venue opened on 15th September with a performance of Matrosskaya Tishina, one of Tabakerka's most well-known plays. Alexander is already very pleased with the contribution that the L-Acoustics loudspeakers have made to productions.
"Thanks to the combination of L-Acoustics loudspeakers and the Vivace system, audiences can experience breathtakingly realistic effects – everything from the ambience of a small room to the huge sound of a cathedral organ or an echo in the mountains, as well as moving sound sources or extended panning," he said. "It also means that, while the venue is intended principally for theatre plays, it can be also used for live concerts. We say to all Muscovite theatre lovers, 'come and experience the many capabilities of this amazing system!"