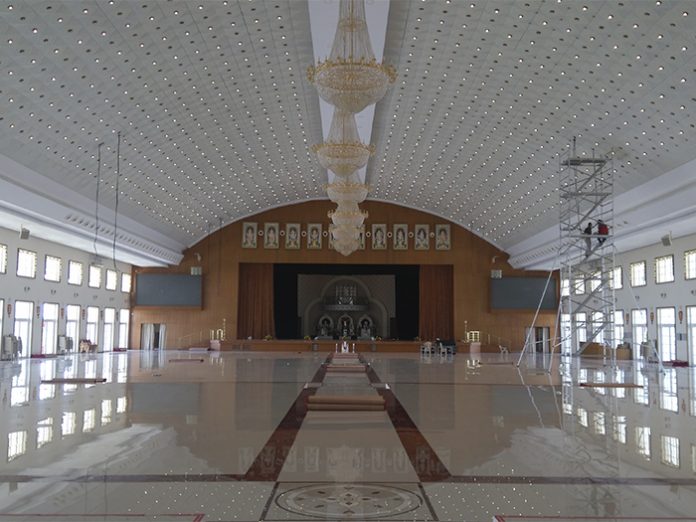 An L-Acoustics Kara system recently offered a solution to the Sri Sathya Sai Premamrutham ashram in Muddenahalli, India's audio challenges. Provided by the Certified Distributor Provider for India New Delhi-based Hi-Tech Audio System, the sound system was required inside the venue to maximise intelligibility during talks, concerts, and devotional activities.
"For the management of Sri Sathya Sai Premamrutham, the project is a milestone and the audio install was a prime consideration," added Sri Sathya Sai Premamrutham's, Bharat Kumar. "We didn't want anyone to blame the acoustics of the hall for bad sound; rather, we wanted a company that could fix the acoustic environment with their system. We found out about L- Acoustics and thought they could provide the solution we needed, then we discovered there was only one authorised distributor for India – Hi Tech Audio."
"As the India distributor of L-Acoustics, we wanted to provide the best system to our client; one that would deliver the consistent audio quality they required," explained Rajan Gupta, Managing Director of Hi-Tech Audio Systems. "The auditorium has a high reverberation time and we wanted to achieve a very precise sound, particularly for music, to create a soothing spiritual ambience. A Kara system would allow us to do this."
The installation comprises a main left and right PA with six L-Acoustics Kara per side, a centre fill of three L-Acoustics Kara and three L-Acoustics SB18 subs flown in a cardioid pattern next to the L-Acoustics Kara. To accommodate the enormous size of the venue, delays of four stacked L-Acoustics Kara and two L-Acoustics SB18 subs per side were added.
J Davis Prosound & Lighting, which has provided AV and lighting installations across India for over two decades, assisted Hi-Tech Audio with the installation.
"L-Acoustics systems are based on a total solutions approach including all enclosures, rigging, amplification, and DSP," said Santana Davis, owner of J Davis Prosound & Lighting. "This results in a highly predictive, standard system with control and monitoring that satisfies the performance requirements of the venue."
Hi-Tech's Senior Application Engineer, Kallol Nath added: "The venue is a highly reflective zone with a reverb time of 4.5 seconds. This was the biggest challenge as we have to provide direct sound to the congregants who visit the auditorium. To ensure a clean, natural sound throughout the prayer hall we have also installed eight 5XT as front-fills and two X12 as side-fills, positioned directly under the main PA and at a close vicinity to the stage."
The expansive interior of the auditorium, which measures 60 by 40 metres features a high ceiling that houses hundreds of LED lights. This presented an additional challenge as there was a lack of rigging points, which needed to be created during the two-week installation period.
While the project was not without its challenges, Santana says the experience, and the outcome, have been "very positive". A previously-installed LED video wall provides seated audience members a clear view of what is happening on stage and the new L-Acoustics Kara system now enables everyone to hear just as clearly. "Everything sounds clearer, fuller, and the auditorium engineer is getting a better picture of the sound in the venue," remarked Santana.
"I know that nothing comes easy in our profession, but with L-Acoustics the end result is always marvellous," concluded Kallol. "Now devotees can experience a truly tranquil sound in this sanctuary."