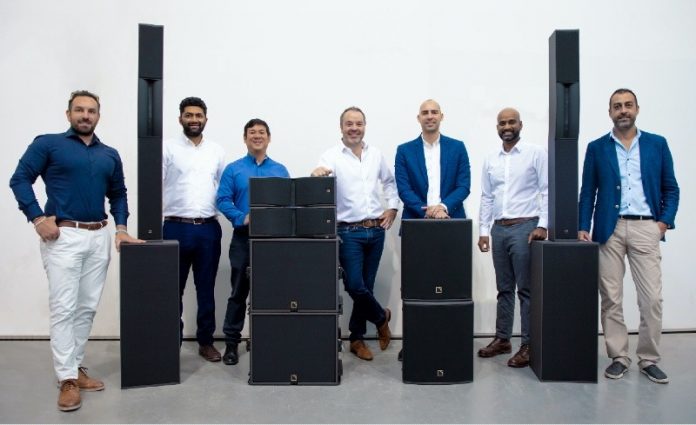 L-Acoustics has appointed NMK Electronics as its CPd (Certified Provider Distributor) for the Middle East.
"Our team of pro-audio specialists with decades of experience respond to local demand and also offer technical and design support across the board," commented Dino Drimakis, Commercial Director at NMK Electronics. "NMK works closely with partners from several market segments of the AV industry. We are thrilled to add a world-leading audio manufacturer to our portfolio. L-Acoustics fits perfectly with our product mix. We also appreciate their drive to consistently innovate and enhance the experience for audiences and end-users. We are proud to bring their innovative technologies to the region."
Aiming to increase the demand for high-end audio and to bring the latest technologies to market, NMK is constructing a 16,500 sq ft experience centre in Al Quoz to showcase real-life audio-visual applications. L-Acoustics L-ISA immersive technology will be a centrepiece of the NMK experience centre.
"L-ISA technology is becoming ever more prevalent both for portable systems and for install applications around the world," explained Chris Mead, L-Acoustics Sales Manager, Middle East – India – Africa. "Being able to showcase L-ISA in the NMK Experience Centre where end users, consultants, integrators, rental companies and promoters can experience it will open even more doors in the region for us."
Dino agrees that having a space to experience L-Acoustics technology will drive demand for the brand in the region. "The entire Gulf region is always looking to push the boundaries when it comes to technology," he explained. "We are delighted we will be able to provide the access for people to experience these pioneering technologies. It needs to be heard to be fully believed!
"We live in a critical market shift era in our industry where the IT and security markets have entered the AV industry and started to commoditise it," Dino continued. "We're here to facilitate that change, and to raise the bar on the demand for AV expertise, which is crucial to the success of these complex integration projects. Our goal is to enhance the complete industry across the Middle East. If we succeed, it will benefit the complete supply chain and enhance the skill set of the market. Our approach will be organic and selfless to the community."
"Having been based in Dubai for over 10 years, I have always seen NMK as a leading and forward-thinking reseller in the region, and the construction of the experience centre in Dubai is a testament to that," Mead concluded. "NMK are known for their transparency and straightforward way of doing business and have a great support team behind them to make sure the job is done right. Their corporate culture is a superb fit with L-Acoustics and will make for great synergy."