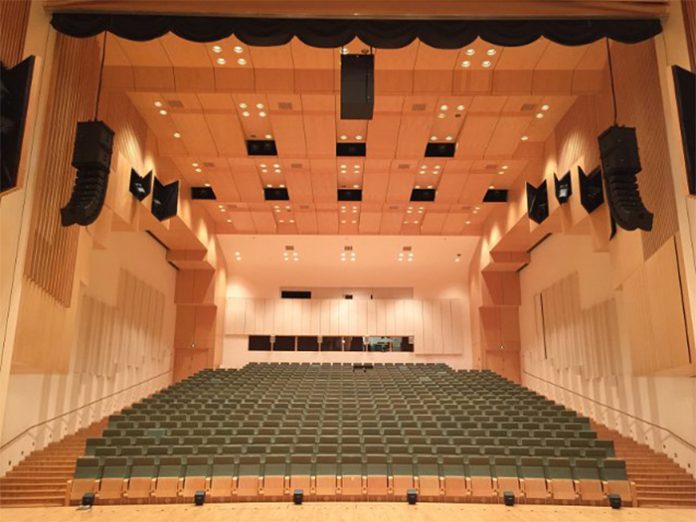 Finish Kuusamo Hall's theatre boasts an L‑Acoustics Kiva II system, designed and installed by Audico, L‑Acoustics distributor.
Opened in the 1980s, Kuusamo Hall sits gently in its surroundings. Its wood clad theatre reflects the natural beauty of the Finnish countryside, providing a warm, inviting atmosphere and creating a delightful space to enjoy the varied musical events it hosts. Its audio system, however, had not been updated since the time of construction and comprised only flush mounted ceiling speakers. Although visually unobtrusive, they were unsuitable for visiting productions, imposing on each performer to bring their own PA.
"The premise of the new sound system was to make the venue more attractive to a wider variety of touring acts," said Audico's Pauli Molnár. "It's a really beautiful hall, but with everyone bringing in their own equipment, load out times were long and the house technicians had to wait until guest engineers had packed everything up. It was extra work for everyone."
The management team at Kuusamo Hall had heard other L-Acoustics systems installed by Audico, and they already knew that they wanted to bring this winning team to their own project.
"Kuusamo Hall is a multipurpose venue that hosts a large variety of music events. The idea was to have a touring quality sound system already installed, so the only thing visiting acts need to do is set up mics and consoles to be ready for soundcheck," explained Pauli.
Audico visited the space in 2016 and submitted their recommendation during a tender process. Working alongside L‑Acoustics application engineer Gert Wiersema, Pauli kept the design of the system as simple as possible, choosing the ultra-compact Kiva II for its long throw capability and even SPL, which he knew would give consistent coverage across the entire auditorium.
EightL‑Acoustics Kiva II topped with two L‑Acoustics SB15m subs are positioned either side of the stage, along with two centre hungL‑Acoustics SB18i sub woofers. SixL‑Acoustics 5XT are positioned across the stage lip as front fills and six L‑Acoustics X12 provide stage monitoring.
The system was installed over a week just before Christmas. It sits beautifully in the architecture of the theatre and has transformed it into an attractive and easy to use venue.  "The Kiva II system works extremely well and provides the consistent coverage the venue was after," Pauli concluded."