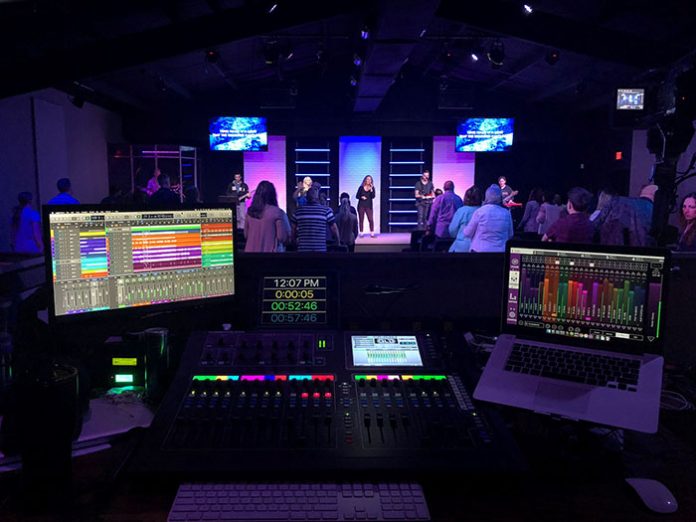 Liberty Church, Gulf Breeze Florida have found that KLANG's 3D IEM mixing system allows vocalists to feel better balanced and improve performances.
The non-denominational church's 200-seat Gulf Breeze campus recently became its first location to integrate a KLANG:fabrik 3D IEM mixing system, which has not only made the monitor mixing at this house of worship more streamlined, but helped make the singing and musicianship even better.
Kelly Ward, audio and media director at Liberty Church's Gulf Breeze campus explained: "The vocalists love the way it helps them fit into the overall picture on stage, and we love it because of the level of control we can have over the monitor mixes".
With the KLANG:fabrik system configured for 32 inputs by six stereo outputs, the musicians and singers at Liberty Church Gulf Breeze's three services each Sunday can not only hear themselves perfectly, but also hear themselves spatially in relation to the other musicians and singers on stage, a capability that the KLANG:fabrik excels at.
Kelly, who works with Gulf Breeze Worship Leader Jamie Anderson, explained that he can manage the system from a laptop at the back of the church, where the KLANG:fabrik unit is connected to an Allen & Heath GLD-80 FOH console and connects to the 36×10-foot stage via Dante over a Cat-6 cable.
Kelly added: "The overall outcome is excellent, because the singers and band members have exactly the mixes they need to hear while they can concentrate on the performance instead of the technology, and the control of the sound on the stage is complete, which makes for a better experience overall during services".
Kelly recommends the KLANG:fabrik 3D IEM mixing system to other All Pro integrated Systems house-of-worship AV client, concluded: "The KLANG has been a game changer for us at the church, and we'd like others to enjoy the same benefits".