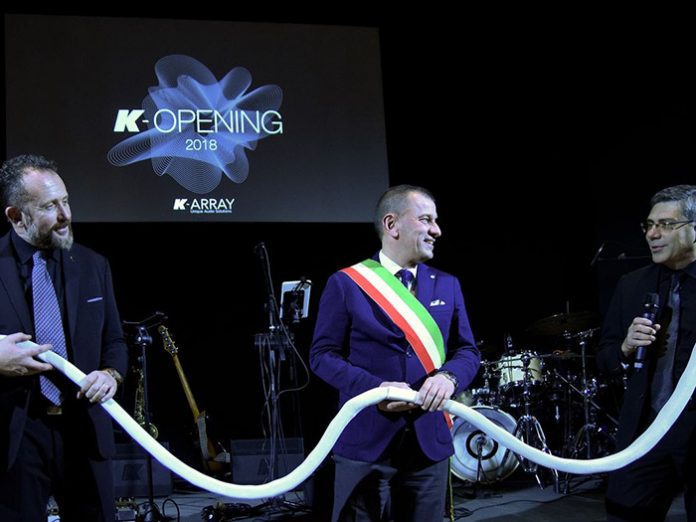 2018 marks a transformation in K-array's identity to fully reinforce an ethos that combines the values of contemporary design and Italian innovation by threading it through every facet of the company including branding, advertising, events and, most recently, the renovation of its industrial headquarters.
Since its start in 1990, K-array has leveraged its closely-tied heritage by marrying high-performing audio and Tuscan design, inspired by centuries of Italian creativity and influenced by its countryside surroundings, to create a wide range of unique solutions that are designed and manufactured entirely in the small town of San Piero a Sieve located in the hills encompassing Florence.
The building restoration favours a restructuring completely of Italian flavour to improve the hospitality experience the company has become known for and to enhance the sense of community.
The facade of bricks to honour Florentine terracotta with a central glass staircase, as well as the long ribbon of windows above framed by weathering steel accents, are the essential elements of K-array's language that communicates the importance of its space and its identity to the outside. Inside, the new offices were conceived as a more evolved "office landscape" in an unconstrained layout that allows employees and guests decide how to inhabit the space and where to work invigorated by a sensory experience obtained through the use of raw materials and finishes of pine and oak.
To help capture the essence of Tuscany, K-array employed the help of local vendors Exenia Light for the lighting system, Pecchioli Chini for the ceramic floor tiles, Arctect Italia for design consultation, Fantoni for the office furniture including Kastle Toscana Contract, La Marzocco for the refreshment points, Vicoustic for the audio treatment, zero55 Consulting for specific lighting components and many other artisan vendors for various precious input. And the audio is obviously outfitted from the highest performing solutions on the market.
To reveal its new look, K-array held K-opening night on Wednesday, December 19, where vendors, customers, partners, staff, family and friends were welcomed into the building and were treated to an opening speech by the mayor of Scarperia and San Piero, Federico Ignesti which concluded with a ribbon cutting ceremony that was actually an Anakonda separating ceremony.
"I'd like to thank K-array for their contributions to the community and compliment them for this outstanding facility," said Federico. His words were followed by a lively concert from a local band that continued into the late hours to celebrate a great end to the year.