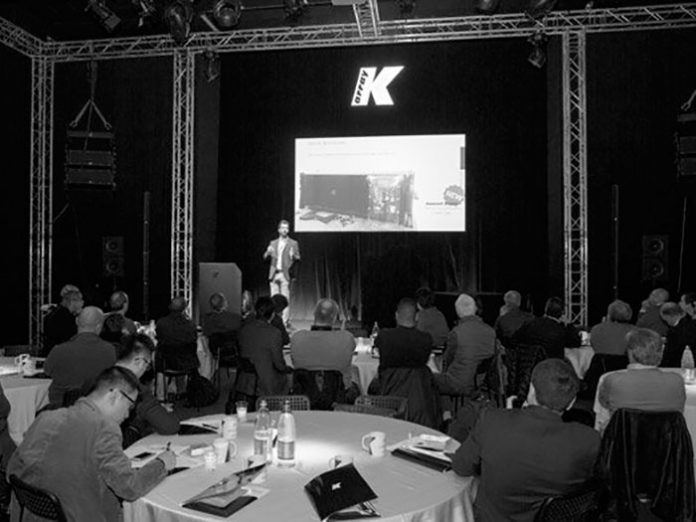 K-Array invited its network of partners to attend the annual global distributor meeting at its headquarter in the hills of Tuscany, Italy. The GDM provided the opportunity for distributors to deep dive into K-Array's diversified portfolio of products and technology that are unique to the market to help optimise the team's knowledge to approach future projects with confidence and expertise.

The two-day event kicked off with a reception that showed off K-Array's innate sense of Italian hospitality by dazzling their guests representing over 50 countries with delicious local cuisine, fine prosecco and an F1 racing simulator.
Presentations were given by project consultant Daniele Mochi who discussed the advantages of digital steering as well as the company's exclusive Slim Array Technology (SAT) and the innovative Pure Array Technology (PAT). Product specialist Franceso Maffei gave distributors a sneak peek of K-array's new products currently in production that will be launched at large industry tradeshows in 2017.
The event evolved into a celebratory affair in the evening during the awards dinner when several distributors were singled out for their exemplary efforts and installations throughout the year.
When the 2016 GDM concluded, the guests returned to their respective countries with an increased interest in the brand and the new products: "We are confident that with the new products, our constant communication and your continuous support we will be heading to another great year and definite success," said Charbel Zoghbi, Managing Director at Procom Middle East.
"I really appreciated all the fun and information I received during the GDM," said Imre Selmeczi at Audio Partner Ltd in Hungary. "I feel this was the most effective and useful meeting I have experienced at K-array!