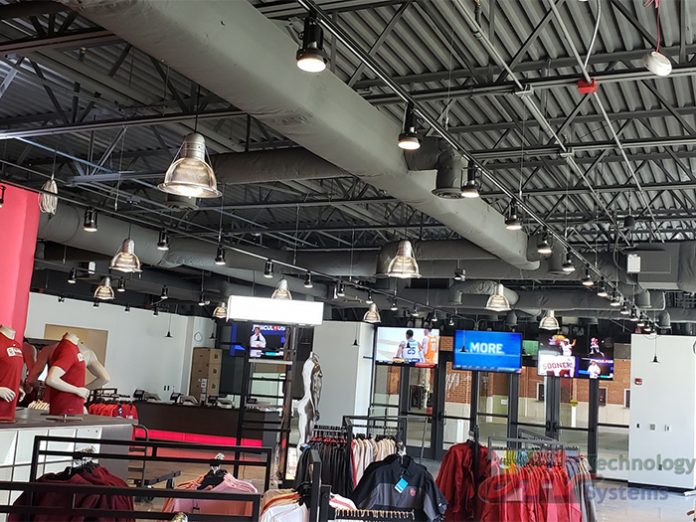 Just Add Power's system has been installed at the University of Oklahoma's (OU) Sooner Shop, located in Gaylord Family Oklahoma Memorial Stadium. Tasked by store operator Fanatics Retail with enhancing the in-store experience for students and fans, integrator AV Technology Systems relied on Just Add Power's 3G Ultra HD Over IP platform and used MediaSwitcher Lite software for simple, independent source control to cost-effectively and reliably distribute digital signage content and live game feeds to seven commercial displays.
"We've utilized Just Add Power solutions in a number of stores operated by Fanatics Retail — both large and small — so the company knows they can expect reliable operation, fast switching, and excellent video quality," said Brian Baron, owner of AV Technology Systems. "They also appreciate that a Just Add Power network doesn't require a full automation system; it can be easily controlled with software on a laptop. That's a key feature for smaller projects with a tighter budget, such as the Sooner Shop."
The Sooner Shop's Just Add Power system offers ultra-low 16 ms of latency from source to screen and supports 4K Ultra HD resolutions and HDMI 2.0 devices with HDCP 2.2. The platform enables seamless switching between any resolution HDMI source as well as uncompressed lossless multichannel audio formats, including Dolby Atmos support. Video wall functionality is built-in for displays installed in portrait and flipped configurations as well as image push, pull, and pop features. An integrated scaler on the receiver automatically adjusts the picture to fit the screen.
Each of the Sooner Shop's video sources — two BrightSign® XT1144 digital signage media players and two cable boxes for live game feeds — is equipped with a Just Add Power VBS-HDIP-707 PoE transmitter, while VBS-HDIP-508 PoE receivers are attached to the displays. The Ultra HD Over IP platform is engineered to provide complete scalability, so expanding the store's system with an additional screen or source is as simple as adding another receiver or transmitter.
"Fanatics Retail is very pleased with their latest Just Add Power system, which has been completely reliable in delivering a unique shopping experience to fans every game day," said Taft Stricklin, sales team manager at Just Add Power. "Furthermore, the store's staff have found it extremely easy to use after only minimal training. With just a few clicks on a laptop, they can change each screen's sources independently and send any source to any screen."