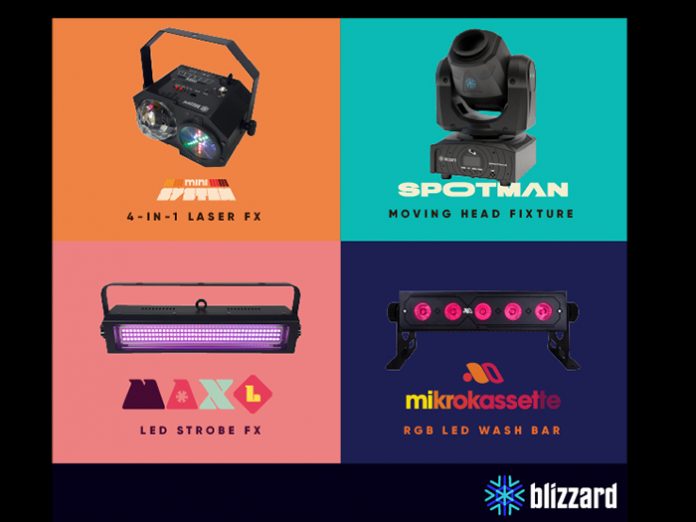 Hit play on Mixtape – a brand new, four-product line of LED lighting effects made to bring the hi-fi to your rig's light show.
Blizzard's Mixtape Series includes a combination of moving lights, lasers, LED washes, and strobe effects – fixtures designed for your stage – whether that's a private party, professional installation, garage band gig, or even a wedding.
"One goal with Mixtape was to create a solid line of lighting products not only for the current environment, but with core features for use in multiple applications down the road," stated Lucas Alonso, Product Design Manager at Blizzard.
"We focused on a high-quality design that is also affordable, and packaged it up with a bit of '80/90s nostalgia."
● MAX L – Why whisper when you can MAX L? This 3-in-1 strobe, blinder, wash effect packs a punch as a pair, solo act, or rigged into a baker's dozen! It's fitted with 132x 0.2W high-output SMD 5050 RGB LEDs for color mixing + 15 ready-to-use presets & more.
● mikrokassette – Great for permanent installs or a weekend road trip, this 4-in-1 wash light & blinder projects vibrant colours over large areas with its 5x ultra-bright 10W RGBW LEDs. This truss warmer is a top pick with static colour, strobe & colour mixing
● SPOTMAN – A 30-watt white LED light source powers this moving head, which includes 7 gobos (+ open) with shake FX, and a 7 colour (+ white) colour wheel with half colours & rainbow flow patterns. SPOTMAN's lighting fast 540°/270° pan/tilt creates a killer light show.
● minisystem – Wow your crowd with the ultimate 4-in-1 party light featuring RGBW beams via a rotating crystal sphere, plus mesmerizing RGB eye-candy + strobe FX. Then show off 1,000s of red & green moving lasers to reach VIP status, thanks to minisystem.
"Another goal for Mixtape was to demonstrate how far LED technology has come when needing to create an impactful light show on a limited budget," said Alonso. "We designed a 36-unit show which draws less than 12 amps, and costs far less than one, single 'professional' moving light. I was amazed with how that package turned out and am excited to put together more combinations."
Mixtape Series is now shipping direct from Blizzard's HQ, and is also available throughout the U.S. from authorized resellers. The MAX L, mikrokassette, and SPOTMAN fixtures can all be configured with Blizzard's internally developed At Full lighting control app, paired with their homegrown wireless DMX controller SoC-It.