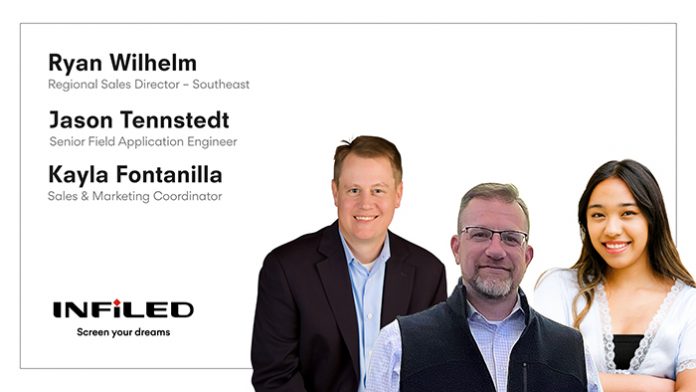 INFiLED has hired three experienced people, adding to its growing ProAV team. The North American, fixed install team welcomes Ryan Wilhelm as Regional Sales Director, under the direction of Rick Bortles, Senior VP of Strategy. Along with Ryan, INFiLED has hired two for the operations side of the business – Kayla Fontanilla, and Jason Tennstedt. Kayla has joined the team as their Sales and Marketing Coordinator, and Jason has come aboard as a Senior Field Application Engineer.
Bortles stated: "Our North American organisation is growing again. I'm pleased to have Ryan Wilhelm join my team to cover the Southeast territory. He joins Jason Manguba and Zack Stewart who recently started in the West and Central regions to expand our reach for dvLED fixed installation projects. Kayla will assist in sales and marketing support. I'll look to her to be a resource for our growing team to facilitate trade shows/events and assist with our marketing campaigns."
Wilhelm commented: "Working under the guidance of Rick offers an invaluable opportunity to cultivate and apply best-in-class customer support and service practices. Furthermore, the presence of an accomplished team unified in their commitment to making INFiLED the foremost choice for LED solutions, underscores the potential for achieving market leadership." Wilhelm is a highly accomplished sales professional whose strategic insights led to the rapid expansion of a national digital signage network.
Fontanilla said: "I'm new to the AV industry, and I'm excited for all the opportunities and knowledge I will gain from everyone at the company. I am thrilled to begin working with this wonderful team!" A recent graduate of communications, her experience in managing social media channels and other digital marketing efforts will aid INFiLED's North American expansion.   
Tennstedt spoke on the expanding company: INFiLED is one of those organisations growing rapidly and bringing several exceptional industry leaders aboard. I am looking forward to being a part of this growth to help shape the INFiLED North America presence."This new team member is a well-respected AV Design Engineer with over 19 years of experience. He's responsible for completing more than 350 high-profile designs and installations.
These experienced team additions promise success for the INFiLED team and its ever-growing business.