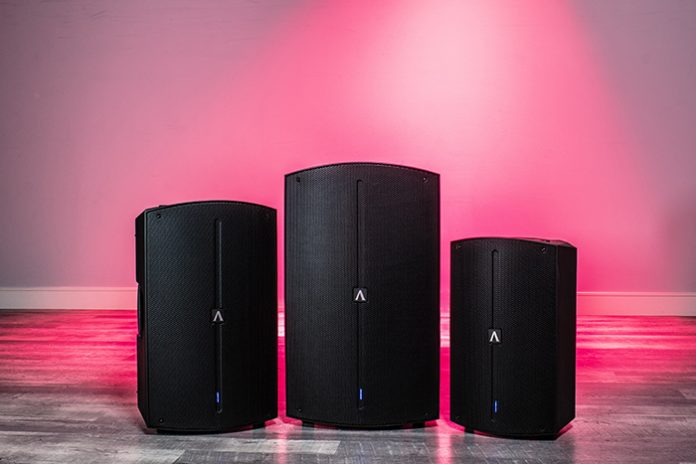 Building on the firm foundations laid by AVANTE Audio's original Achromic Series of reliable and sonically impressive full-range active loudspeakers, the new Achromic X Series inherits all the positive traits and useful features of the originals, while introducing major additions.
Available in three size variants, the series offers a versatile collection of loudspeaker cabinets with advanced built-in DSP and sleek exterior designs.
Created for musicians, DJs, bands, houses of worship, audio production companies and rental houses, the Achromic X Series speakers are equally suited to permanent installation as they are to one-off and touring productions.
Thanks to the addition of Bluetooth 5.0+ technology, audio can be streamed directly to any of the Achromic X Series speakers wirelessly from a compatible cell phone, tablet, or laptop.
A dedicated iOS app (compatible with both iPhone and iPad) is also available, which allows comprehensive control over the integrated 2-channel mixer and comprehensive DSP.
In addition, the app allows you to create Scenes – which are snapshots of all the current level and DSP settings – to be saved and recalled in the future. This would allow, for example, an audio tech can equalize the speaker system to optimize the sound in the room, then name and save as a scene for that particular venue. Next time you return to this venue, you can simply recall the scene and you are ready.
The most compact model in the Achromic X Series is the A10X, which features a 10-inch woofer with a 2-inch voice coil alongside a 1-inch HF compression driver. These are driven by a 250W RMS Class D amplifier (LF) paired with a 50W RMS Class AB amplifier (HF), delivering a peak SPL of 121dB and a frequency response of 70Hz-20kHz.
In the middle of the range is the A12X, which combines a 12-inch woofer with a 2.5-inch voice coil and a 1.35-inch HF compression driver. It features 350W RMS Class D (LF) and 50W RMS Class AB (HF) amplifiers and produces a frequency range of 60Hz-20kHz with a peak SPL of 123dB.
Finally, the largest model in the range is the A15X. Pairing a 15-inch woofer with a 2.5-inch voice coil and a 1.35-inch HF compression driver, it also features 350W RMS Class D (LF) and 50W RMS Class AB (HF) amplifiers. However, its larger speaker cone allows for an extended frequency range of 45Hz-20kHz and an increased maximum SPL of 124dB.
Designed for both durability and portability, all three Achromic X Series models share the same distinctive look, matte black finish, and versatile feature set. They are manufactured from robust H-PP moulded polypropylene and finished with a tough 1.2mm steel grille, which protects the speaker drivers. The cabinets are fitted with ergonomic handles, both on the top and side, making them convenient to carry and set up.
Avante Audio's Product Engineer, Tony Mirador, explained the positive outcome of building off the previous models: "The result is a range of speakers that are extremely easy to use, look great and sound even better, taking the Achromic concept to the next level."