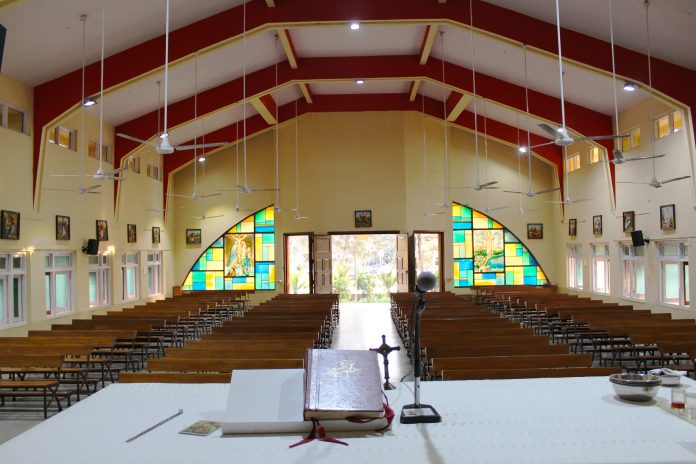 Mumbai-based system integrators Zoodio, have carried out a new sound system upgrade at a Roman Catholic church in the Mumbai township of Vashi.
Built in 1993, Sacred Heart Church has taken delivery of the first Martin Audio BlacklineX system in the country.
Zoodio, who have been specifying Martin Audio solutions for around a decade, had been recommended to the project by the priest of nearby St John The Baptist Church, following the installation of a Martin Audio O-Line as part of a major renovation project.
However, this time Zoodio turned to the new BlacklineX range for the first time. BlacklineX is described as "a classic suite of passive loudspeakers for the modern era" which builds on the heritage of the original, and extremely popular Blackline installation and portable series.
Zoodio project manager and co-ordinator, Dylan Hilton, describes the rationale behind the change of Martin Audio system. "Sacred Heart Church is much wider than St John's, with its wings extended on one side. The ceiling heights are also different and the reverberation time much higher than St John's." He therefore reasoned that the church required the loudspeakers to be much lower and closer to the congregation — and in addition to its suitability, BlacklineX also worked within the budget they were given.
"There had been a lot of complaints about the old system as the vocals were not very audible and was quite old and outdated," said Pereira.
The installation team assessed the challenges of providing coverage for a congregation that can amount to 2,500 people. "The task was to not only cover the centre of the church but also every corner with evenly distributed sound, and we felt that BlacklineX offered best solution for meeting this kind of installation requirement."
Consequently, the company has installed a pair of X15's for the PA, a pair of X12's for the wings and two pairs of X8 as delay for the PA and the wings.
Fed from a series of choir vocal mics, acoustical instruments, lectern mic and further altar mics, the new system also needed to set a benchmark for the future.
In summary, Cleo Pereira said, "The response we have received from the community has been excellent, and the priest also confirmed that clergy now really enjoy saying mass, as they can clearly hear themselves speak while doing so."