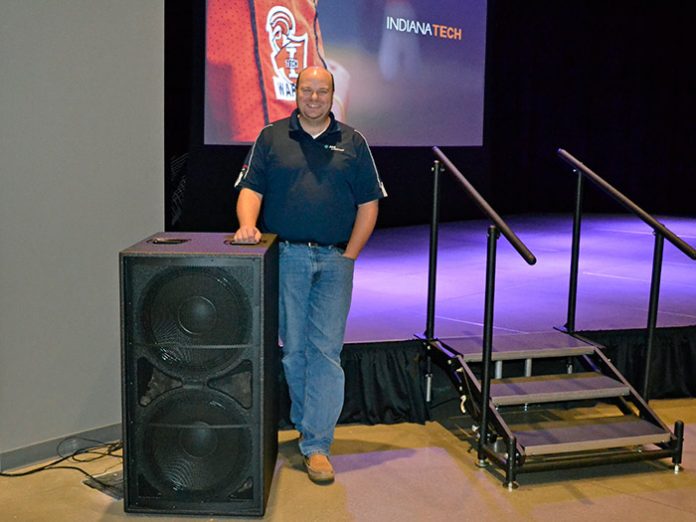 Dubbed the crown jewel of the campus, Indiana Tech's new Academic Centre provides classrooms, labs, offices, and study spaces for the school's growing College of General Studies, is home to the McMillen Library, and features a multi-flex auditorium and theatre space. The facility is host to a wide range of events, so versatility was a key consideration for every aspect of the venue's design. When it came to the sound reinforcement system, subwoofers that could be easily moved were deemed essential. This resulted in the deployment of two UltraWave 218S enclosures drawn from the catalog of WorxAudio Technologies, a division of PreSonus Audio Electronics.
Advanced Systems Group (ASG) of Ft. Wayne, Indiana, a design / build firm specialising in the commercial AV, worship, and education markets, was contracted to handle the installation of the venue's sound reinforcement equipment. Justin Spitler, AVL Engineer for ASG, oversaw the engineering and system design of the Academic Centre. He discussed the challenges of the project and his selection of the WorxAudio subwoofers.
"The facility hosts a wide variety of events from concerts to trade shows," Justin explained. "Nothing on the main floor is permanent, so everything had to be designed so that it could be moved out quickly and not take up much space when in use. We flew the main sound system but left the subwoofers to be set on the floor when needed. Our client wanted the ability to provide a good amount of low end punch when required for events such as those involving music. The product needed to be easily moved on and off the floor, maintain a relatively small footprint, but most importantly, deliver great sonic performance. After carefully evaluating a number of options, the WorxAudio UltraWave 218S subwoofers were determined to be the ideal fit."
The WorxAudio UltraWave 218S is a high performance bass reflex loudspeaker, designed to extend the low frequency response of a sound system to 31Hz. The system provides dual, long excursion 18-inch cone drivers in a tuned enclosure that provide extended response with extremely low distortion. When in use at the new Academic Centre, the enclosures are placed on the floor at stage left and stage right.
In addition to their small footprint and impressive performance, Spitler reports being equally impressed with WorxAudio's customer and technical support services. "WorxAudio's support is fantastic," he said. "Jeff Page and Tony Flammia are always quick to return our calls. We've been very pleased."
Indiana Tech's new Academic Centre has been up and running for several months and, since that time, Justin reported having received numerous compliments: "Our client has been very pleased with the performance of the system. Since the building opened, they have had many events take place and the system has performed exactly the way it was intended. The WorxAudio subwoofers deliver a very musical sound with a lot of muscle and, with their compact size, are easy to move in and out of the room. They've proven to be the ideal low frequency solution."