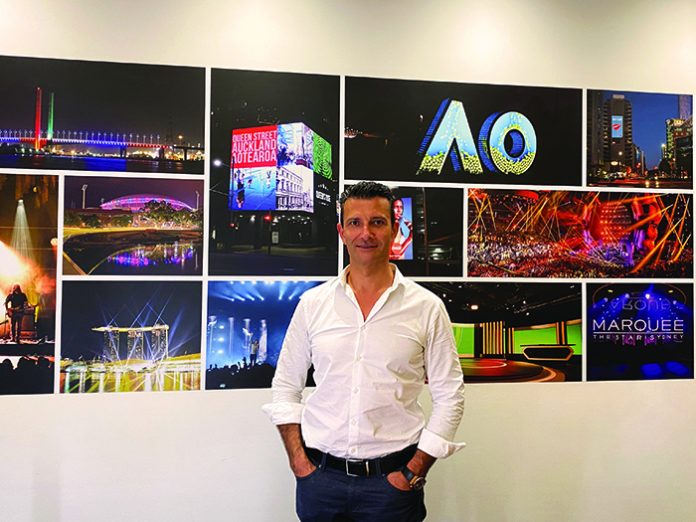 As ULA Group celebrates its 30th birthday this year, Managing Director, Cuono Biviano, speaks to MONDO-DR about its journey so far, how the COVID-19 pandemic has affected business, and what the company has in store for the future.
When the company began back in 1991, what did it want to bring to the industry?
When ULA began, the supply of technology in our sector was very limited. I was trying to bring to the industry more competitive offerings and new brands, as well as some unique products. I wanted to also develop a national supply and service network and offer better customer service and support. 
What was the company's philosophy and how has this changed over the years?
The company's philosophy has always been the same and has never changed in terms of customer satisfaction. It has always been about relationships, understanding what the customer wants to achieve and offering the best product in class that is fit for purpose.
What sets us apart is that we have a global presence with a family approach. No one is above or beneath us. We always work towards a positive outcome and we sit side by side with everyone we work with. The bottom line is we are always approachable, and we stand behind every statement we make. My door is always open. My motto is 'you never forget where you came from or how you started'. It is all about finding the solution, finding the favourable outcome in any situation.
What are your favourite projects to work on and why?
The ULA Group business model is based on providing solutions to bring people's vision to life. The Gateway bridge is a perfect example. The design brief was to use neon in a linear format to create a glow under the bridge. However, the technology was turning to LED at that time and the builder wanted to provide the latest technology. There were a number of challenges – distance, the harsh salt air environment, the combination of metals, light pollution to the major airport and shipping port, serviceability, and longevity. So, this is where myself and the ULA Group team perform at our best. As a manufacturer and distributor of the world's leading technology, we can partner with our clients and the designers to bring their vision to life, whether it's lighting, vision or control. Our business is not based on doing installations, our business is about exactly what I just mentioned – we know the capability of our technology the best, as we should, and we like the challenge of large-scale iconic projects. Marina Bay Sands had a similar challenge, and the architects were not convinced that LED technology had the light output at that point in time and we had to prove this by conducting onsite tests. We adapted the technology optically and the end result is what you see marketed across the World today. One of my favourite times is when my own children were on a school excursion and drove over the Gateway bridge and were telling their friends and teachers: "This is the bridge my Dad lit up. Look at the lights!" It made me very proud. It is the old cliché, but it is true that we light up people's lives. 
View this post on Instagram
How have you witnessed the industry changing during your 30 years of business? 
The industry in relation to the technology has 100% improved for the better. The feature set from products today and the diversification has opened up so many new opportunities. The products can go from the club scene, to the corporate scene, to exhibition. Digital displays have opened so many more opportunities in every part of the World. 
In relation to manufacturing, I feel that there are fewer passionate people in the industry as the focus has turned more to revenue, so the balance is no longer there. It has been sad to see the reduction of manufacturing across Europe and the US. 
What have been some major milestones for the company over the 30 years?
Expanding the business across the east coast of Australia, including different warehouses and offices, and opening the new office in New Zealand was very significant.
Moving into the architectural lighting space was also great, as well as setting up manufacturing of architectural lighting in Europe. We also opened up our Digital Division, which was huge for us – the creation of VuePix and setting up manufacturing of VuePix Infiled LED screens in Shenzhen, and expanding distribution of LED screens across 100 countries.
How have you dealt with the problems you've encountered due to COVID-19?
COVID-19 raised many challenges for us at ULA group. Thanks to our diversification and being in the business for 30 years, we were in a strong position to deal with the stop to the entertainment and exhibition industry. We consolidated all our costs and overheads and, in particular, we looked at the entertainment and exhibition sector. We continued to support and liaise with our suppliers and clients to establish the best ways to support each other, too. We made sure that we continued being active in our marketing and our doors always remained open and ready for business. Our sales into the project industry and educational sector continued as normal and in some cases grew. A great positive was that the film industry grew in Australia and New Zealand, due to the low Covid cases. We also launched our ULA Health Care division early last year, which spawned from our current manufacturing partners. This saw new opportunities and business arise. The key factor from the point Covid pandemic hit the World for us was to review all parts of the business, reduce any fat, make the company lean and use the opportunity to restructure and implement new processes, upgrade our ERP system and place the company in more dynamic and flexible position to handle unprecedented conditions.
What direction do you see the industry heading post COVID?
The industry to me from the supply side will be rather conservative for the next few years, while companies try to recoup working capital and will utilise the technology that they have already invested in. 
We have seen a number of production companies unfortunately close, which also places an abundance of product out in the market. Manufacturers will have to reduce their product range, with the products they manufacture offering a more universal feature set and value for money. The most well-established companies will continue growing and getting stronger, but it will be a tough time for anyone new. I believe there will be a lot more outdoor festivals and people wanting to get out to shows and venues, so I think it will be healthy, provided the governments don't shut these events down. 
Where do you see ULA Group heading in the next 30 years?
The ULA Group will continue on its current path, however I see the digital visual space growing, our health care solutions expanding, and film and TV lighting and outdoor architectural lighting and outdoor production growing. The digital space will continue to grow exponentially, as this technology is advancing at a rate of knots, just as mobile phone technology did. We are expanding our reach daily, which gives us more opportunities for all the other parts of our business. I would also like to sincerely thank all of my team and our global manufacturing partners and especially our clients and designers and everyone that have contributed to make ULA group successful for the last 30 years. Without you all my vision would not have been a reality. The journey to date has both been forthfilling and one that I could never have imagined. I look forward to continuing working with you all for the next 30!
What do you think will be the biggest shift in the industry across the next 30 years?
I think there will be various shifts in our industry. I believe that there will be fewer manufacturers, however, many of them, who have not already, will follow the Amazon model of selling direct to the marketplace. 
The outdoor events space will continue to grow. There will be a growth in weatherproof lighting fixtures. I also forecast that the last of the major private manufacturers will get sold to public firms or merge with others.  
Ultimately, technology will get smarter, lighter and thinner and be more versatile, offering a greater ROI.
This article first appeared in issue 32.1 of MONDO-DR, which you can read below –
www.ulagroup.com