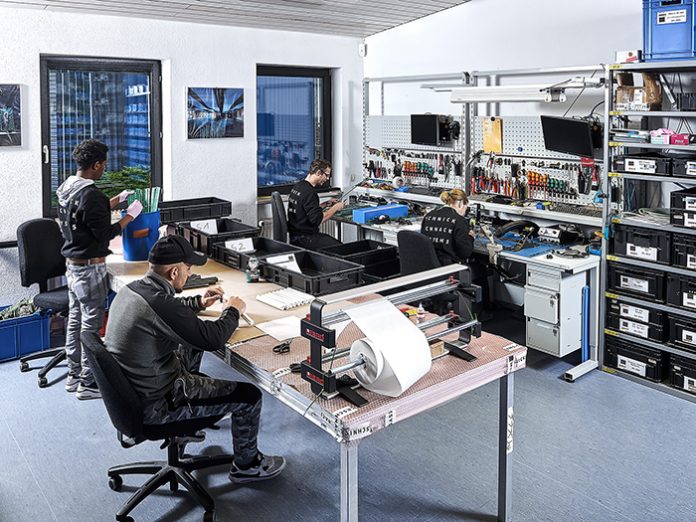 Schnick-Schnack-Systems turns 18 next year and, in that time, the company has certainly come of age, becoming one of the most important suppliers and LED effect lighting solutions and control technology in the industry.
Founded in Germany by owner, Dipl. Ing. (FH) Erhard Lehmann – described as a "technical freak" – whose idea was based on manufacturing LED modules and lights, as well as suitable power supplies. The first big advance in the company's development came when Schnick-Schnack-Systems worked on Lexus' tradeshow booth at the Geneva International Motorshow.
Solveig Busler, Member of the Executive Board at Schnick-Schnack-Systems, explained further: "The size of the project and the trust of the customer really encouraged us to follow the dream of being a premium LED manufacturer. Since then, we have continuously invested in our own high-quality production line, in skilled employees, and in the research of enhanced technologies."
But, what is it that makes Schnick-Schnack-Systems different from any other lighting manufacturer? After all, it's an extremely competitive field, which means companies have to offer something that makes them stand out – particularly to last for coming up to 18 years.
"Our aim is to empower lighting quality," said Solveig. "Our team is driven by the idea to make lighting technology consistently better in order to establish ourselves as a technology leader.
"You will experience this when you talk to our project managers – they do not only understand our products, but also have experience with designs, processes and construction planning as well. They will not recommend to you what is not necessary, but the best product to achieve your intended lighting result."
The priority at Schnick-Schnack-Systems is – and always has been – the quality of its products. The selection of components and constant quality control throughout the manufacturing process are key features in how the company operates. However, it's the drive to always improve and develop its product range for the customer that really explains the success over the years.
"Our core technologies are the daisy chain addressing of all our modules, flicker free dimming, and the superior lighting quality. Rumours say that we have a proprietary control protocol, but our controllers are open to all kind of data sources – whether our customers own a lighting console, a media server, or a hardware media player, we accept standard protocols like DMX512, Art-Net® and sACN," said Solveig.
Over the years, there have been some spectacular projects for the Schnick-Schnack-Systems team – too many to mention, in fact. Although XXX did try to narrow it down to a select few that have stood out: "Many of our projects have been incredibly special, but the ones that have impressed most are the Pixelwald by Pipilotti Rist, which has already travelled around the world and will continue to do so. There's the German Sport Studio by ZDF, which was a one-of-a-kind spherical broadcast studio, as well as the outdoor installation 'Moment Magnet' at Helsinki Outlet Center, which is a perfect example of how LED can be used to express calm, peace and style.
"Also, I have to say that it felt like a real accolade when we were contracted for the Shanghai Pavilion at World Expo in 2010. We were asked to deliver our German-made LED lighting technology to China – the home of LED technology."
Read the full article in issue 31.5 of MONDO-DR –