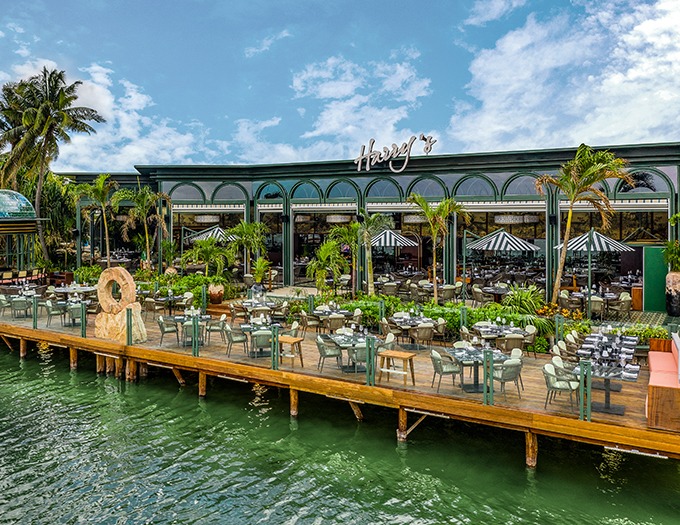 "The clarity, performance and output for a speaker with this footprint have made it possible for projects like this to have a Funktion-One system and for Loto Audio to enter the restaurant market," enthused Loto Audio founder, Ramón Salazar, speaking about the F5. Funktion-One's smallest ever loudspeaker. It is at the heart of three restaurant projects recently completed by the company, which operates as the manufacturer's exclusive distributor for Mexico, as well as a rental house and installer. Harry's Cancún, Ilios Cancún and Bagatelle Tulum are now home to sizeable Funktion-One Compact Range sound systems.
Considered by some as Cancún's hottest restaurant, Harry's specialises in steak and seafood, offering up a mouth-watering menu together with waterfalls, several bars, decks, lagoon views, dancing fountains, a wine cellar and a raw bar. It is owned and operated by Grupo Anderson's, which was founded in 1963 by Carlos Anderson, under the ideology that in restaurants we have no customers, we have guests. Applying this ethos to the sound at Harry's, the owners contacted Loto Audio about installing a Funktion-One system.
Ramón explained further: "The owners were convinced to upgrade their current businesses with Funktion-One after the experience delivered in previous projects. We've done some installs with Grupo Anderson's nightclubs and performance venues. They wanted to give their clients a premium experience not only in their clubs, but their restaurants as well.
"Harry's is one of many brands owned by Grupo Anderson's. The brand is defined as 'the ideal place to live a complete sensorial experience in which elements such as music, colour, flavour, fragrance and texture intermingle to stimulate the senses and generate unique sensations.' It was a logical decision to consider a Funktion-One system for their flagship location in Cancún."
The system at Harry's features 16 Funktion-One F81s and 19 F5s, with two MB212s and 15 SB8s for low end reinforcement. Power comes from MC2 Delta Series amps and control is handled my NST Audio's VMX88 processor and VR1 remote control panel.
Commenting on the system, Loto Audio's Alexander Danielewicz said: "It is a distributed system with F5 full range and SB8 bass compliments. There are various zones – outdoor terrace, main restaurant, reception, private VIP room and toilets – because they needed to adjust levels according to the number of customers at different hours of the day. The NST VR1 was very useful for the end users to switch inputs from the DJ and live musicians to a background music player."
A stroll along Boulevard Kukulcan leads to another Grupo Anderson's venue, Ilios Cancún, where patrons are greeted by spectacular décor, dancers, sparklers and, of course, a little plate smashing when the mood is right.
"Ilios required a high-quality sound system, with flawless coverage and appropriate sound pressure levels for its areas," said Alexander.
The concrete and glass surfaces create a challenging acoustic environment, but the use of fabric, wood and open glass panes help to counteract this. "We needed a sound system with very precise directivity to address this venue," continued Alexander. "The Funktion-One solution fits like a glove and the white colour was the obvious choice to suit the architecture and décor."
With live music and DJ performances being part of its DNA, the venue required a sound system that could deliver deep bass and higher sound pressure levels than usual. After dinner, the restaurant transforms into a club/lounge serving as the perfect location for cocktails as the evening warms up.
Four Funktion-One F1201 and two F218 are located in the far part of the terrace, shifting the audience's attention towards the DJ booth and performance area. Belly dancers and acrobats often accompany dinner and drinks, making for a memorable evening.
Dining areas of the restaurant are equipped with F81 speakers and SB8 bass, as a subtler level is needed at the tables. The corridor leading to the toilets, lobby and piers is equipped with F5 speakers and more SB8 bass. The system is powered by a combination of MC2 Delta 20, Delta 40 and Delta 80 amps and controlled by an NST VMX88 processor.
Read the full story in issue 31.5 of MONDO-DR –