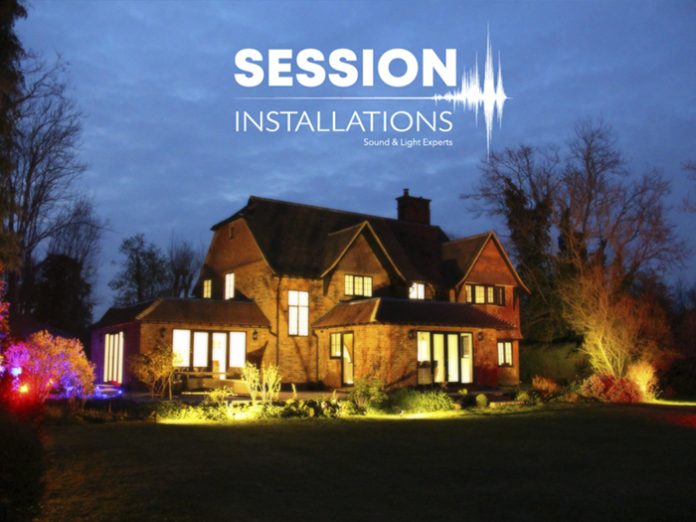 The ever-expanding IP65 Aspect exterior feature lights from LEDJ produce bright beams of light to illuminate and highlight outdoor areas including gardens, paths, foliage and facades. These are fast becoming the go-to product in the outdoor installation industry, with the following 4 case studies being done in just the last few months.
Case Study 1 – Garden Lighting Installation
Session Installations, a Session Music company, were proud to have been asked to install a complete lighting effect scheme into a beautiful Surrey garden. Their client, a keen gardener, had an extensive outdoor space which they wanted to carry on enjoying after dark. Their brief was to provide multifunctional lighting to enhance, and create depth and intrigue, so they installed a variety of the 9W Aspect series giving the client a natural warm white light, along with the option of colour upon their garden landscape. The lighting was installed with sensitivity to the natural flora and fauna, whilst also being added to prime spots to give optimum lighting and giving that wow factor, all in time for a large garden party the client was holding.
Case Study 2 – Outdoor 'Glow Event'
Session Installations were also asked to provide a local charity 'The Therapy Garden' a 'Glow Event' trail within the local community garden. They used various 9W Aspect series lighting to enhance key parts of the garden creating a trail for visitors to follow, giving the space a completely different look after dark. This further shows the versatility of these exterior fixtures as they can be permanently installed or hired for events, this particular event proved popular, attracting over 100 paying locals.
Case Study 3 – Rivington Terraced Gardens Installation
CDS Events rigged a variety of different coloured 9W Aspect exterior lights in a temporary installation at Rivington Terraced Gardens. They were selected, along with the LEDJ Spectra 15Q8 and 24T9 fixtures and Festoon to enhance the plush gardens and extensive outside landscapes for a special light festival.
Case Study 4 – A Lighting Designers first choice
Proving popular with not only installers and event companies, Lighting Designer Roger Williams has become such a fan of the compact Aspect feature lights that they were top of his list when choosing fixtures for own personal garden installation. He commented "they do a beautiful job of illuminating my garden", after placing the 9W versions in key areas highlighting various aspects and features.
These stylish, compact lights come in an IP65 die-cast alloy housing and have IP rated 0.75m power input/output linkable trailing connections ideal for professional installation. They are available in 3W and 9W versions and come in a wide variety of coloured LEDs, the most recent addition being the deep blue, giving the user multiple options dependent upon the application.