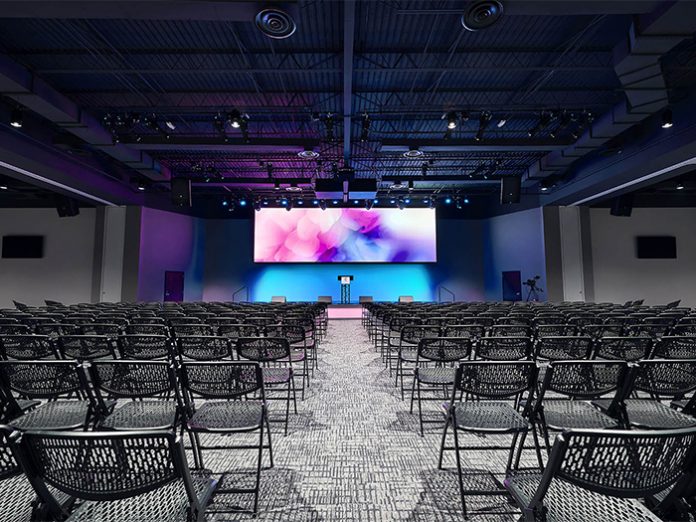 Immanuel Baptist Church has been serving Little Rock, Arkansas for 125 years, and it recently upped its commitment with the creation of City Center. City Center is a community centre with an 800-person capacity venue, classrooms, clinics, and more. It is built into a former Kroger grocery store that was adjacent to Immanuel Baptist's sanctuary on the west side of the city. Regional AVL integration firm Paragon 360 of Springfield, Missouri, designed and installed a complete AVL system for City Center. A Danley Sound Labs sound reinforcement system leverages Danley's point-source pattern control in the challenging acoustic space.
The Paragon 360 team of Rich Nelms, Mark Coble, and Brian Roggow led the design, management, installation, and commissioning of City Center's AVL system. "The main venue at City Center is meant to be modular and flexible to accommodate everything from youth concerts and church services to conferences, public talks, and parties," explained Rich. "The stage can be removed, and seating can be placed around tables or in rows or removed entirely. Air walls allow the larger space to become two or three smaller spaces. The footprint is large, and the minimum SPL requirements had to meet concert-level volumes."
To deal with the former grocery store's reflective walls, the Paragon 360 team installed a FabriTRAK system of tracks that are filled with acoustically-absorbent material and covered over with aesthetically-appealing fabric. However, there was nothing they could do about the low ceiling height. "We certainly couldn't put a line array in there," said Mark. "In addition, they have a giant LED wall, and no one wanted it to be aesthetically compromised by bulky loudspeakers. We needed all of the pattern control we could get from relatively small, point-source boxes, and Danley was obviously the right choice for those requirements. We considered several of Danley's loudspeakers to find the perfect fit, and Danley SH50s with DFA downfills were our choice to give us great pattern control and coverage in a small package that would be easy to keep out of sight."
The stage is set against the longer dimension of the room and four Danley SH50s – each with a DFA downfill attachment – run its length. The Danley DFA is an asymmetrical high-mid horn designed to seamless integrate with the SH50. It is only thirteen inches tall and delivers 50 degree vertical coverage but 50 to 100 degree horizontal coverage, front to back, respectively. When the room is divided into three spaces, the larger middle space gets two of the SH50+DFAs, and the rooms that flank it each get one. A pair of flown Danley DBH218 subwoofers capably round out the low end, especially for high SPL events, and a single Danley SH95HO hangs below them to provide center fill.
Two four-channel Danley DNA 10k4 Pro and one four-channel Danley DNA 5k4c amplifier/DSPs power the system with 25,000 combined watts. Roggow used the Danley DNA on-board DSP and presets as starting points when he commissioned the system, tweaking them to match the characteristics of the room. A QSC Q-Sys Core 110 with touch panel controls provides larger system-level routing control, input conditioning, and presets. An Allen & Heath dLive s5000 digital console runs the show, with an Allen & Heath ME-1 personal monitoring system for musicians and presenters on stage. A full complement of wired microphones together with Shure wireless microphones and in-ear monitors round out the City Center system.