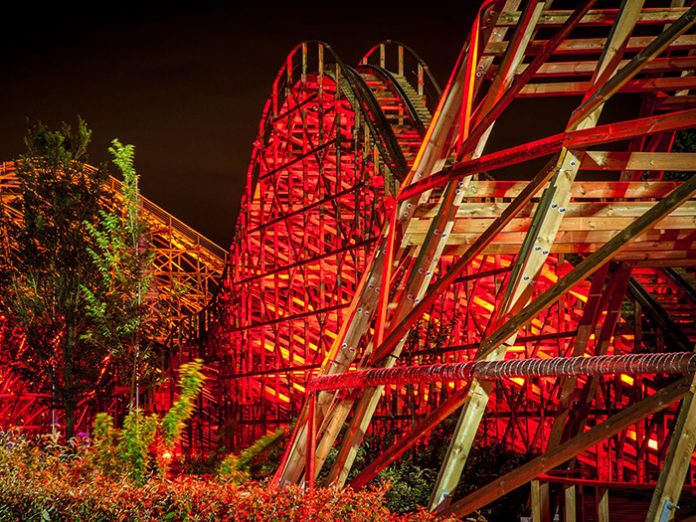 The name "Heidi" may conjure up images of a sweet young heroine in a Swiss children's tale, but for thrill seekers in Benelux it is also coming to stand for an exciting rollercoaster ride. Towering above the heart of the
Plopsaland De Panne theme park in Belgium, "Heidi The Ride," is a new 22-metre (72ft) high wooden rollercoaster that accelerates to dizzying speeds. Named after the highly successful
Heidi
TV show produced by amusement park owners Studio 100, Heidi's commanding position at the end of the park can now be appreciated by both park visitors and passers-by at all times of the day, thanks to an impressive lighting design utilizing fixtures from CHAUVET Professional's ILUMINARC division.
Luc Peumans and his team at the acclaimed Belgian creative design studio Painting With Light was brought on board to give Heidi an exciting night-time visual aesthetic to match the breath-taking experience of the ride itself. They decided upon 74 ILUMINARC fixtures, including the COLORIST Pod 7Qa, COLORIST Panel 8Qa and 36Qa and COLORIST Line 12Qa and 6Qa to douse the structure in magnificent saturated glow.
"It was a really amazing honour to be invited to light this beautiful and intricate structure," commented Luc, whose concept involved highlighting the detail of the 6 million Euro attraction, which is built from some 56,846 meters of wood. "The interesting shape immediately evoked a range of different lighting treatments."
After considerable research and testing, Luc created a lighting scheme involving three layers – internal, external (with a selection of fixtures grazing up the sides of the structure) and some oblique lights to illuminate the drama of the ramps. The ILUMINARC fixtures were positioned on the ground and embedded into or rigged on concrete blocks for ease of service and accessibility.
"The whole ILUMINARC range is ideal for exterior illumination projects of this kind," continued Luc. "The combination of pods, panels and lines provides fantastic collective output for filling lots of different areas and spaces with the structure."
Thanks to the quad color RGBA LED source of the fixtures, Luccould cover the whole of the enormous structure in light. "Given the height, it was vital that the throw of the fixtures be long and strong enough to maintain the vitality of the colors," he commented. "The ILUMINARC fixtures provide a fantastic quality of light and color, even from throw distances of over 22-metres."
In addition to the imaginative elements, Luc needed to take into consideration several practicalities of the installation. The fixtures needed to be both IP rated for outdoor use, tough to withstand the general environment and accessible for maintenance. "ILUMINARC was also chosen for its robustness," he continued, "as well as representing great value, which is vital for any long-term installation."
The lighting scheme transforms the rollercoaster into an impressive artwork every night, serving as both a central focal point to the new Heidi Zone, and also for the surrounding area, where it can be clearly seen from miles around.