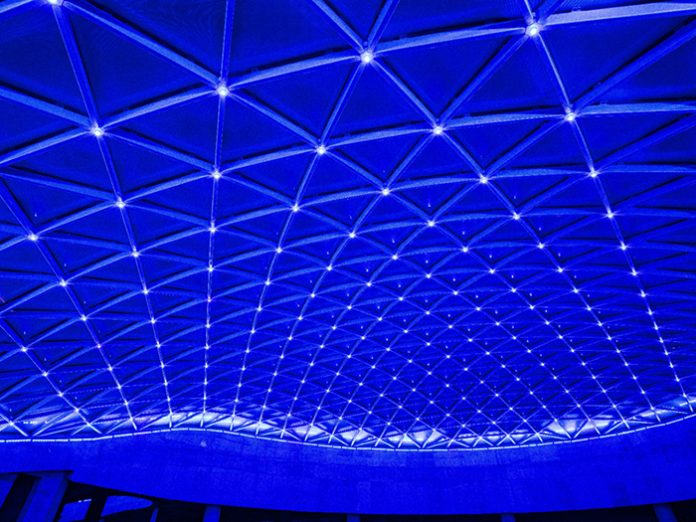 The clubhouse of the Kempinski Hotel in Yinchuan in Ningxia provided a serendipitous opportunity for Novum Structures (a leader in self-supporting geodetic architecture) and Illumination Physics (a leader in integrated architectural lighting) to collaborate.
The Kempinski Hotel is built in a harsh environment on the North West frontier of the PRC; an inhospitable environment more often than not. A grand hotel should have great facilities for recreation, pools, spas and the like, but the desert climate has an average annual daily temperature of just 8.9 degrees Celsius, meaning that if built outdoors, these leisure assets would be unusable.
The hotel clubhouse needed to be built indoors so that it can be enjoyed 365 days of the year. Hence the novel plan to place the sports and recreation facilities underground, beneath two organically shaped glass domes. In order to make unrestricted use of the spaces created, it would be highly desirable if the need for supporting columns for the domes could be eliminated.
Enter Novum Structures. This is their speciality. The two domes would be constructed from glass and metal panels that, when assembled, are self-supporting.
The domes make an extravagant architectural statement and it would be illogical not to celebrate them with light.
Enter illumination Physics: the lighting design had already conceived of the most logical way to illuminate the domes with a mix of indirect and direct view lighting.
The perimeter of the domes would be illuminated with a continuous ring of high power linear wash lights. The purpose was to create a grazing wash of light. Since the webs of the Novum structures were finished in white and would lie perpendicular to the direction of the grazing light, the registration of the light would be good.
Working with Novum, illumination Physics designed a custom LED dot that fitted perfectly into the structural system.
Novum only needed to make very small provisions for the lighting equipment. The light fixture became 50mm in diameter and was fitted with a frosted domed PMMA lens, providing even viewing over more than 200°.
The custom cables were to be concealed inside the spokes of the structure and were installed during the panel fabrication stage then tested on site. To complete the system, the LED fixtures were attached on site once the structure was completed, thorough T&C was undertaken whilst the scaffolding was available.
Illumination Physics designed the control and data distribution systems, the two domes are used for different purposes and are controlled separately via touch screen interfaces.
The illumination of the domes offers many creative opportunities. Dark winter afternoons can be enhanced with a visual metaphor, a blue sky with passing clouds for example. Both festive treatments and day-to-day mood lighting can instantly be called up or scheduled in advance. Regardless, the integration of the lighting system with this unique structure has been executed with perfect geometry.