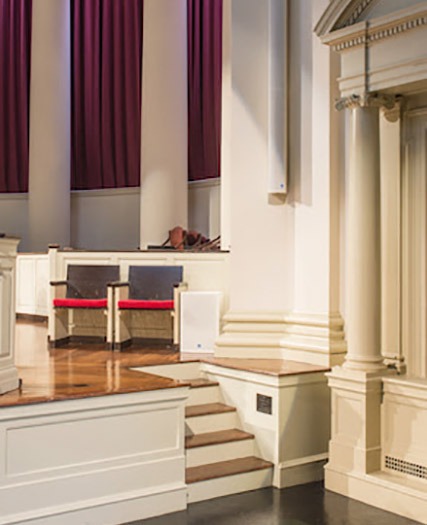 For 85 years, Hendricks Chapel has been the spiritual, ethical, and cultural heart of Syracuse University, connecting its large, diverse community. The beautiful Greco-Roman-style building hosts a wide variety of weddings, services, lectures, choir performances, and music events. Crowds range from intimate gatherings of 100 to major events with more than 1,000 people. To deliver the quality of music and speech appropriate for such a prestigious venue, the university recently upgraded the chapel's sound system with Renkus-Heinz Iconyx Gen5 loudspeakers.
"The space was underutilised until about 15 years ago," recalled David May, Owner of DCI Sound. "At that time, we installed a sound system that was primarily Renkus-Heinz loudspeakers and first generation steerable arrays. Finally, people could hear, and usage of the space increased. But that system was designed for speech intelligibility, and Hendricks Chapel now hosts many musical events. So in the summer of 2015, the university asked us to design and install a new system that would address the chapel's expanded requirements."
As David explained, DCI has extensive experience with Iconyx. "In addition to the advantages of steered beams, Iconyx are much more musical and have higher output capability than the systems we used before," he said. "Iconyx Gen5 is even better because you get a more flexible selection of configurations, with even greater precision. That means we can customise Gen5 systems even better for each venue, and we can deliver a high-quality system for less money."
To cover the main auditorium seating, David chose a L-R pair of Iconyx Gen5 IC24-RN digitally steerable line arrays, mounted on each side of the proscenium. The IC24-RN employs 24 four-inch coaxial transducers, each with three tweeters, in a slim, low profile design. "Because we can choose the location of multiple beams, we were able to mount the arrays up high, getting the beams above the lectern mics," David explained. "That improved gain before feedback." For sub-bass, May opted for Renkus-Heinz CFX12S 12-inch high-performance subwoofers. "The CFX subwoofers provide excellent warmth in the low end."
David used Renkus-Heinz' new RHAON II software to program the Iconyx Gen5 speakers. "The original RHAON was good, but RHAON II renders much faster," he stated. "It's a big improvement."
The chapel's old sound system employed Renkus-Heinz TRC81 floor wedges and TRC121 sidefills as stage monitors. David determined that these speakers, which feature Renkus-Heinz' smooth, low-distortion complex conic horn technology, were still doing a fine job, so they were integrated into the new system.
The main system is processed with BSS SoundWeb DSP, and the overall sound and lighting system is managed with a Crestron control system. This enables anything from a simple, fully automated system for events without a system operator to versatile manual control with a Dante-enabled, Soundcraft SI Performer-series digital console. The operator can even choose between three monitoring configurations for the TRC-series floor wedges and sidefills.
The new sound system is a success in every respect. "The staff at the Hendricks Chapel and Syracuse University are extremely happy with the Iconyx Gen5 system," David concludued. "Now they have uniform, high-quality sound throughout the space that is great for music and speech, whether there are 100 people or 1,000. It's a huge improvement. We're very pleased, as well; we'll do a lot more installs with Gen5."