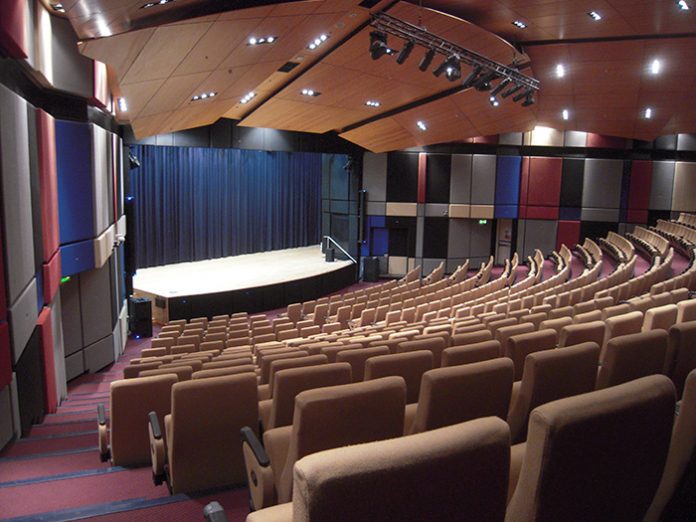 The multi-purpose auditorium within the College of North Atlantic Qatar (CNAQ) is among the most acoustically impressive venues in the city of Doha. Recently the subject of a top-to-bottom technical refurbishment by systems integrator Audio Visual Technology (AV Tech), the venue now boasts state-of-the-art video, projection and lighting systems. When it came to choosing a sound reinforcement solution capable of making the most of the room's acoustic qualities, AV Tech turned to Renkus-Heinz and IC-Live.
Related to the famous Canadian college of the same name, CNAQ has celebrated the graduation of more than 4,000 alumni since 2002. The auditorium has long been the heart of the institution. Over the course of two years, AV Tech Technical Sales Manager Mahmoud El Zein has led upgrades to every technical system in the building. The result is a world-class hall capable of hosting a broad variety of events, from spoken-word corporate presentations and local musical acts, to touring theatrical productions.
Prior to the refurbishment, the space contained an ageing line array system. Despite the excellent acoustic properties, coverage remained an issue. 'The old array system was single-beam and difficult to control; the drivers had become worn out and were no longer offering the desired performance," explains El Zein. The replacement had to be "a fixed installation, that would stay in place for many years and offer good quality, while protecting the aesthetics of the room."
Two Renkus-Heinz IC-Live FR Dual columns now serve the auditorium, discretely mounted at either side of the stage in a left-right configuration. The choice reflects the multi-purpose use of the space, with enough power to support the ambitious productions it sometimes hosts. The active arrays each combine 10 6.5-inch, neodymium-loaded transducers plus six 1-inch HF compression drivers, all spread across two modules. For musical performances, two IC215S-R subwoofers add precise low-end support. Front and centre fills are handled by five PN61R two-way enclosures, installed into the lip of the stage. Full and even coverage across every seat in the house is ensured with the subtle use of Renkus-Heinz's beam steering expertise.