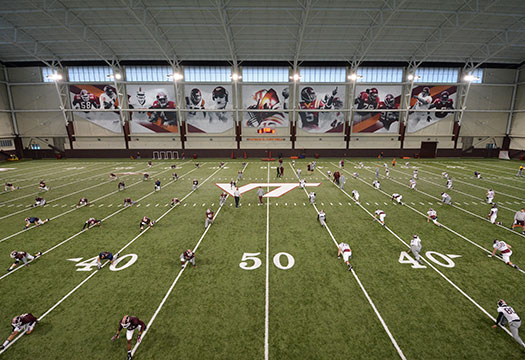 Virginia Tech's new Patrick D. Cupp Field, is a large and modern indoor practice venue. At 210ft by 400ft with an 86ft ceiling and equipped with a premium artificial turf field, the venue was designed for football scrimmages but will also be used by Virginia Tech's men's and women's soccer, softball, baseball, and lacrosse teams for training and conditioning.
Six permanently installed video cameras record practices, training drills and scrimmages sending their feeds to a separate control room where each camera can be viewed, recorded and delivered to the coaches at the end of a practice for immediate review. In addition, the Hokies' new indoor practice venue has a stadium-quality audio system that allows coaches to communicate with players anywhere on the field and also plays motivational music and crowd noise simulations.
MCW Solutions of Ashburn, Virginia, designed and installed the audio system. Project manager Michael Berger noted that Virginia Tech's RFP originally specified an end-zone cluster, but MCW recommended a distributed system design. "The building is 400ft long," he explained, "and we knew there would be a noticeable delay when the coach was at the opposite end of the field from the cluster. Also," he continued, "the distributed design would give them better coverage and allow zoning flexibility."
MCW Solutions chose Community's new I SERIES loudspeakers for the project. 16 IP8-1122/64 12", two-way loudspeakers form the distributed system. The loudspeakers are suspended with Community's IVY1122 BalancePoint Flyware and both the loudspeakers and brackets are white to blend with the building's steel framework. The system is powered by QSC PLD series amplifiers with a Biamp Tesira DSP and controlled by a Crestron CP3 series touch panel. Coaches can choose from a Shure wireless handheld or lapel microphone system.
The loudspeakers are divided into four zones corresponding to quadrants of the field. Coaching staff can select zones and control the system level from the Crestron touch panel. MCW Solutions added four Community R SERIES R.5-66MAX loudspeakers outside the building to cover the outdoor practice field.
Michael said the system provides highly intelligible communication from the coaching staff to players on the field along with high quality music and simulated crowd noise. "The coaching staff is very happy with the system," he said. "The distributed design eliminated the delay so they don't have to wear headsets on the field and both the voice clarity and music quality are great."